Garlic Butter New Potatoes
PetsRus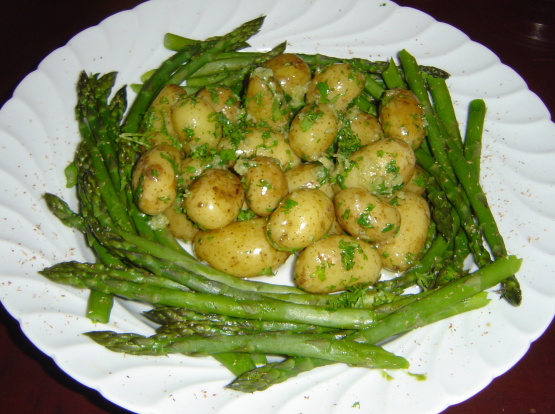 I love this recipe. It is so simple, and yet, so delicious. I serve these potatoes with my Tarragon Cream Chicken. However, they are a delicious accompaniment to any meal. I took this recipe from Southern Living. It can be found in their Ultimate Quick and Easy cookbook. I generally do make a couple of changes- I add 1/4-1/2 tsp. salt to the garlic butter. I also often add minced fresh dill when I have it. Enjoy!
Quick and easy solution that paired well with my wife's salmon-loaf and peas.
Add potato to salted water in a large saucepan. Cook, covered, 10 minutes or until tender. Drain. (Do NOT overcook the potatoes- they will be mushy!).
Meanwhile, melt the butter in a small skillet over medium-high heat.
Add garlic and salt (optional). Cook, stirring constantly, for 3 minutes or until garlic is tender.
Add parsley, pepper, and dill (optional). Pour over potatoes, tossing gently to coat.
Enjoy!