Garlic and Rosemary Grilled Snapper
Thorsten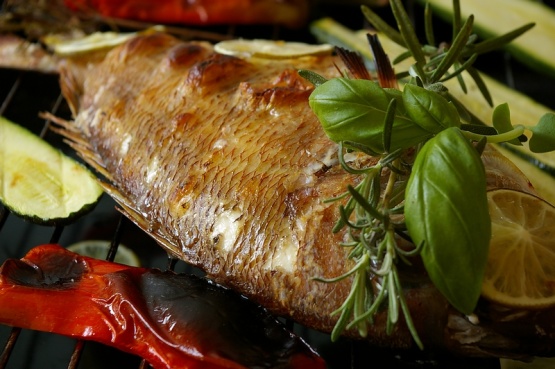 This is a great recipe to infuse TONS of flavor into grilled whole fish. Alot of folks are intimidated by grilling "whole fishes". BUT most of the flavor and moisture is retained by grilling the fish whole. If you don't want to chop the fresh rosemary, whole stalks work just as well stuffed into the fish's cavity.
Trim extra fins and tail off of your fish.
Sprinkle salt and pepper over the entire inside and outside of the fish.
Combine the first seven ingredients, and mix well.
I like to smash the herbs and spices in my mortar and pestle.
If you don't have a mortar and pestle, finely chop the ingredients together on your cutting board.
Stuff fresh herb and spice mixture into fish's cavity, rub any extra over both sides of the outer skin.
Top fish with lemon or lime slice (if using).
Grill whole fish for about 7 minutes on each side or until cooked through.
Remove fish from grill, and carefuly remove filets from bone to serve.