Galley Wench's Stuffed French Toast
diner524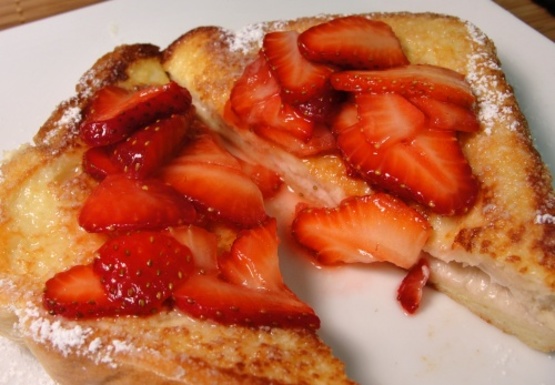 A little more work than regular french toast, but worth every minute! The recipe is written using strawberry jam, but feel free to use your favorite jam or preserve. Prep time does not inlcude chill time needed for the stuffed bread.
Wonderful stuffed french toast that was enjoyed by DH and I this morning. I didn't have any french bread so justed used regular and did add a little more jam just to make it really taste of strawberry. Served with some sliced strawberries and a sprinkle of powdered sugar. Thanks for sharing the recipe. Made for Potluck Tag Game.
Night Before:.
Beat cream cheese and jam together.
Spread jam mixture on cut side of bread.
Top with the other half.
Wrap in plastic wrap and refrigerate overnight.
Next Morning:.
Beat eggs, milk, sugar and vanilla in a shallow bowl.
Remove bread from refrigerator and slice, 1/2 inch thick.
Soak both sides of bread in egg mixture, 10-15 seconds per side.
Preheat non-stick griddle or pan sprayed with non-stick cooking spray.
Cook until golden brown.
Sprinkle with cinnamon before turning.
Top with fresh strawberry slices, and serve with strawberry jam or maple syrup.