diner524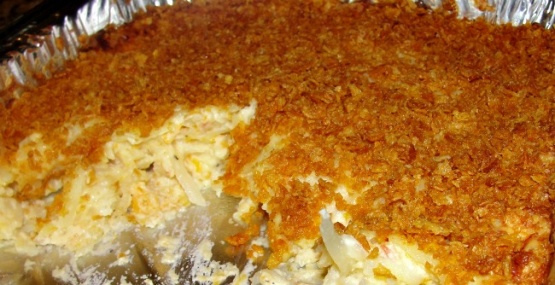 This is a delicious, easy cassserole that my mom calls "Funeral Potatoes" because she sees it all the time at funerals (not that she goes that often...).
I tried these spuds years ago when a co-worker brought them. They were made with mashed potatoes. She informed me that was all she had, but they were delicious.<br/> <br/>I later found a recipe for them called "Cottage Potatoes" from a magazine. I made them once with Rice Crispies because I forgot to buy corn flakes. They were good but you could the cereal popping in the oven!! Seriously, it was funny.<br/><br/>I noticed some comments about the fat and caloric content. Kudos to those of you brave enough to be creative and make a healthier version. Personally, I feel, that unless you were eating multiple servings several times a day, this doesn't need to be an issue. Remember, this food is usually offered at special occasions, not a constant side dish. Most people I know can eat one serving and one serving only. It is very rich.
Mix all of the ingredients together and put in a 9 by 13 pan.
Mix the ingredients for the topping and spead out over the casserole.
Bake at 350 degrees for 45-60 minutes.
Tip: Mixing in the hashbrowns last makes stirring them in a lot easier.