momaphet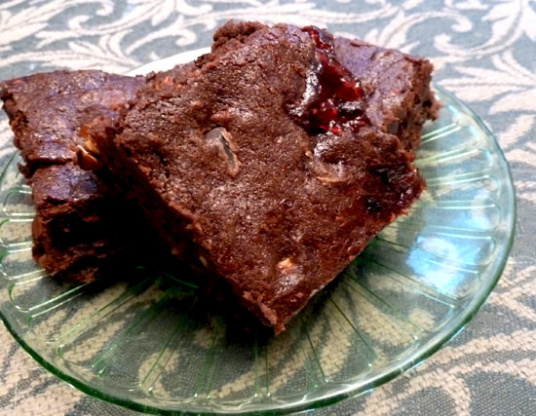 These brownies have developed a cult following among many of the regulars at Yorktown Height's Gersky's. Make them yourself and you'll see why. They're dark and devilish!

These brownies are sensational!! Didn't have any almonds or milk chocolate chips on hand, but used pecans and semisweet chips with great results.Thanks for sharing :)!!!!
In a large bowl, melt together butter and chocolate in a microwave; With a wire whisk, beat in sugar, eggs, and vanilla - Let cool slightly; Gradually stir in flour and baking powder just to combine; Fold in almonds and chocolate chips.
Spread about 3/4 of the batter evenly in a 13" x 9" x 2" pan that has been coated with a non stick spray; Carefully spread raspberry preserves on top of the batter; Drizzle remaining batter evenly over preserves swirling top lightly with a spoon; Gently smooth top.
Bake for about 20 - 25 minutes at 350° or until the top is slightly puffed and a toothpick inserted in the center comes out clean.
Cool completely in the pan on a rack before cutting and enjoying.