Fruity Rice Krispie Treats / Squares - Kids No Bake
Um Safia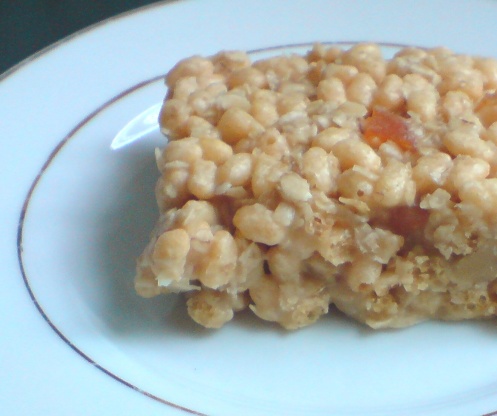 My kids love Rice Krispie Treats. The problem for us is finding marshmallows suitable for our diet - this recipe uses white chocolate instead! You can use honey or maple syrup in place of the golden syrup or sub with light corn syrup. The walnuts add protein, apricots add betacarotene & the oats add iron and slow release energy (carbs). You could add some extra goodness like various seeds or use muesli in place of the oats.......feel free to experiment!

I've always been a fan of rice krispie bars, & these are especially enjoyable, what with the inclusion of all those other tasty ingredients ~ chocolate, dried fruit & nuts! This is something I'll make again for those adult friends of mine who still have a 'kid' lurking inside them! Thanks for sharing! [Tagged, made & reviewed in the Zaar Chef Alphabet Soup Game]
Place the chocolate, margarine & goldeb syrup in a large microwavable bowl & cook for approx 2 mins or until melted. Quickly mix together.
Add the dry ingredients & mix well.
Line a large rectangular or square baking dish / tin (approx 11" x 25") with aluminium foil.
Spoon the mixture into the dish & smooth the top, slightly pressing down at the same time.
Place in the fridge to set, then slice into squares, slices or use cookie cutters to create other shapes. Alternatively, you can spoon the mix into paper cases & chill in the fridge.
Store in the fridge for upto a week.