Summers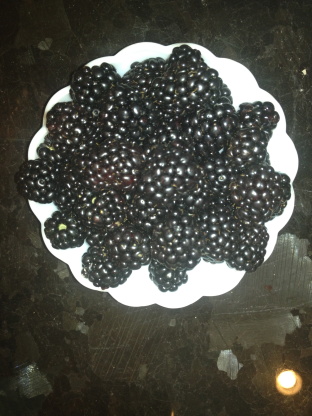 One of my favorite summer treats! I remember searching the woods for enough blackberries for my mother to make Blackberry Mousse. She would spread it in a pyrex dish and scoop it out with an ice cream scoop. I like to use the muffin tins. After they are frozen you can take them out of the pan and put them in large ziplock freezer bags and take them out as individual servings. It is best if you let them thaw slightly before eating.
Didn't have quite enough blackberries so I added in some blueberries. Awesome! Made for PAC Spring'13
Line 12 serving muffin pan with foil baking tins. Place blackberries in a bowl and crush slightly. Set aside.
In a large mixing bowl combine whipping cream, sugar, and vanilla. Beat with an electric mixer on medium high speed until soft peaks form.
Fold in crushed berries and spoon into lined muffin cups.
Freeze until firm. To serve remove baking tins and place on desert plates. can be garnished with fresh berries and shaved chocolate to dress it up!