Tisme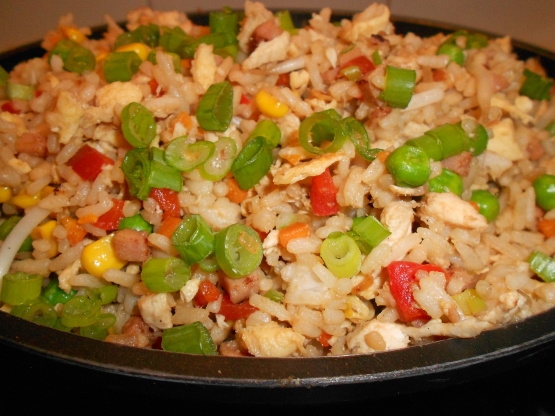 I've been making fried rice like this for a million years and just realized I've never shared my recipe here. I made my fried rice to keep and be sold by the tub over lunch time, so I was very particular about how I made it. This is a scaled down amount to that which I'd make commercially. I don't much like celery or carrots in it, but would use them in rather than waste them if they were hanging around in the fridge. I don't use soy sauce in it as I find it penetrates the grains of rice and goes soggy-oyster or hoisin being thicker coat the grains, makes them go glossy and keep better. And so many cooks are so heavy handed with soy that the rice goes the ugliest shade of dark brown. Eeewwww. 2 of us just ate this for lunch; it would serve 4 as a side dish. Rice is best cooked the day before and chilled in the fridge. Overcooked, gluggy rice won't make good fried rice! This isn't authentic, but it always worked well for me.

This was really easy and good. I never throw out my leftover rice. I save it using my"food saver" for soups that I love to make for my Grandson or for a time when I want to make fried rice. So frozen rice worked well. I like the fact that it didn't call for soy sauce. But I would really like to add some ginger to it next time to make it more authentic, some salt (tiny bit) and black pepper. The oyster sauce on this fried rice was new to me, but well accepted. Made for N/Z Ed #8 Tag Game
Heat the oils in a wok or frying pan and add the onion, bacon and garlic clove. Cook over medium heat until the onion is really well softened and the bacon is cooked through. (About 10 minutes).
Add the red and green capsicums, peas and corn and cook for 2 or three minutes; you want the capsicums brightly coloured and still crisp.
Push all that to the edge and pour in the egg. Gently push the cooked egg to the outside (allowing the raw stuff to flow in to the centre) don't beat it around too much as you want it visible in the finished dish!
When all the egg is cooked, gently mix all this together, then increase the heat and add the stock powder and rice. Get a lifter and turn the rice over (too much stirring with spoons doesn't work IMO).
When the rice is well heated through, stir though the oyster sauce and the onion tops and serve. You can offer soy at the table if you must.