Rmlanj9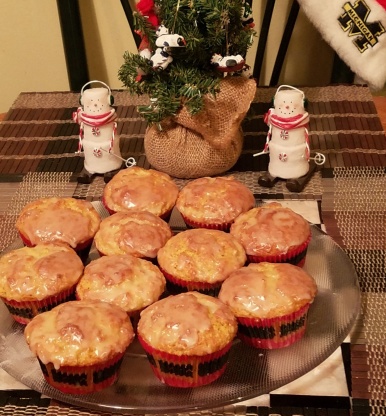 I got this recipe from one of my SILs after having them at her house. Next time I make them I think I will add miniature chocolate chips!

I made a batch for the ladies at work on Secretary's Day to have with their morning coffee. They were a big hit! The muffins were so easy to make and extremely moist and delicious. I was a little worried that the batter seemed thick (almost like corn bread) and that it would be "crumbly" when done. I added just one ingredient: I sprinkled the top of the muffins with powdered sugar. I will definitely make them again very soon. Thank you for this teriffic recipe!
Preheat oven to 400F; spray a muffin tin (12) with non-stick cooking spray like Pam and set aside.
Put orange quarters in food processor (or blender) along with orange juice and process or blend until pureed.
Add egg and butter to food processor and combine; pour into large bowl.
Combine dry ingredients together in a separate bowl, then add all at once to orange mixture.
Stir to combine.
Fill muffin cups about 3/4 full.
Bake in preheated oven for 20 minutes; remove from oven and let stand in tin for 5 minutes before removing muffins.