French Chocolate Ice Cream
Bev I Am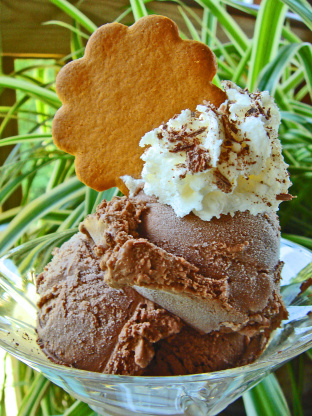 This makes a very rich and creamy chocolate ice cream. Be sure for best flavor, to use a premium, high quality chocolate. If you do not like the bitter taste of the chocolate, be sure to add extra sugar (you can add up to 1 full cup). The Cook Time reflects freezing. Note: To make Belgian chocolate ice cream, stir in 1/4 cup rum or 1 tsp rum extract and 1/2 cup chopped hazelnuts. To make Mandarin Chocolate ice cream, add 1 TBS grated orange rind and 1/2 tsp orange extract or 2 TBS orange liqueur.

Excellent and easy to prepare. Even though there are only 2 ounces of chocolate, the ice cream is very, very chocolaty. I took Bev's suggestion and added an additional 1/4 c. sugar to get a sweeter chocolate ice cream. This ice cream is so good.
1 1⁄4 cups milk

2

ounces unsweetened chocolate, chopped (or 1/4 cup unsweetened cocoa powder)
1⁄2 cup sugar (you may increase up to 1 cup)

1

tablespoon flour

1

egg, slightly beaten
1 1⁄4 cups whipping cream
1⁄2 teaspoon vanilla
Heat milk in medium saucepan.
Stir in chocolate, continue stirring until chocolate is melted.
In another bowl, combine sugar with flour; stir in a little hot milk/chocolate mixture, add beaten egg to chocolate mixture; then add egg mixture to milk/chocolate.
Stir over low heat until thickened, about 3 minutes.
Cool in refrigerator at least 1 hour, or until well chilled.
Stir in whipping cream and vanilla.
Freeze in ice cream machine according to manufacturer's directions.
Note: The use of the flour will help to give the ice cream body and smoothness.