diner524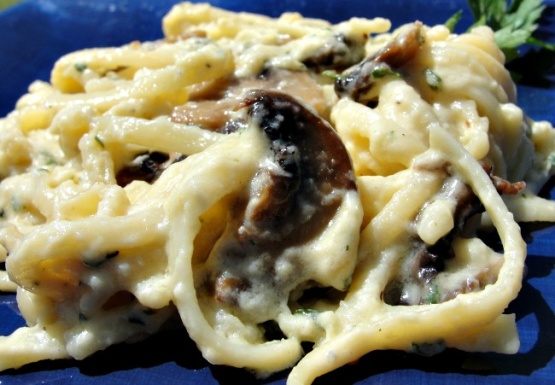 This is an excellent recipe for an intimate dinner for 4. Serve with salad and wine.
Wonderful change from the normal carbonaras I have had in the past!! I had some leftover cooked fettuccine in my refrigerator from a previous recipe that I made too much of the pasta, so very quick to make lunch today. Other then scaling this way back to serve one (using one egg), after I took the photo, I added cooked bacon crumbles. Thanks for sharing a fun new twist, which I much prefer the mushrooms over the normal peas, that I will make again. Made for CQ 2014.
Heat a large pot of salted water on high and begin to cook pasta if it's dry.
If it's fresh wait until after youve prepared the sauce as it will only take 3 minutes to cook.
Beat together the eggs, parmesan cheese and parsley until eggs are blended well.
Heat a large skillet over medium high heat and add the butter.
Saute the garlic and mushrooms for 3-4 minutes.
Add the cream and heat through.
Drain the pasta and return to pot immediately.
Add the mushroom and egg mixture, tossing for 2 minutes.
Season with salt and pepper, serve at once.