J-Lynn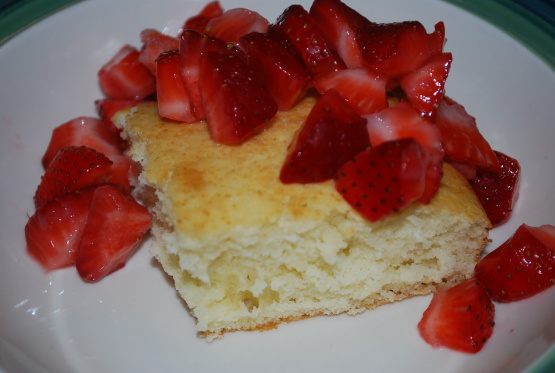 Yet another shortcake recipe- but this is my Mom's and Grandma's and therefore the only one that will ever really taste right with strawberries, as far as I'm concerned. Have to say it's not really a 'short'-cake by the definition, it's just CAKE-like; also sweeter than the average biscuit-tasting variety. Try it for something different. Prep. time is approximate.

Excellent!! I am not related to the sisters this recipe belongs to, but this is exactly like what I grew up with too...and the only shortcake I like! I lost my recipe and was happy to find this one posted here. We also smothered the shortcake and strawberries with milk. Yum!
Mix together flour, baking powder, and salt.
In a separate bowl combine eggs, sugar, milk, and vanilla; mix well.
Combine egg mixture with dry ingredients.
Melt butter and add to batter, beating well.
Pour into 2 greased 8-inch baking pans.
Bake at 375 for 25-30 minutes.
Serve warm or cold with strawberries and a little milk!