Ensalada De Nopales Y Camarones - Cactus and Shrimp Salad
lazyme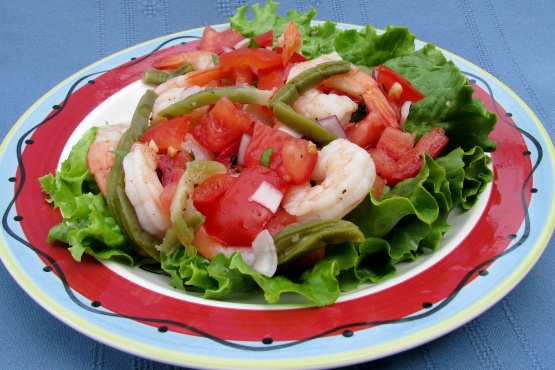 Cactus is a common and tasty food item in Mexico and parts of SW USA. Cactus, or NOPALES as they are known in Texas and Mexico, can be found fresh and needle free in the produce section. You can even find jars of Nopales or Nopalitos (little (pieces of) Nopales) in the ethnic aisle of your grocery store. If you choose to use those please drain them and rinse them well. Green Beans or chayote can be substituted if cactus is not available. The nutritional info here is not correct as the olive oil is used for coating the items you are grilling and in the dressing. Not all of it is consumed. This recipe is from La Comida Del Barrio (meaning Foods from the neighborhood) Latin American Cooking in the U.S., by Aaron Sanchez (Clarkson Potter, 2003) This dish would be wonderful with any Mexican cerveza (beer) or with a crisp and fruity Sauvignon Blanc.

Top Review by lazyme
This was good! I have never tried cactus before so this was a leap for me, lol. I couldn't find fresh, so used Dona Maria's Nopalitos. I used a splash of Jose Cuervo which added just a little bit of a bite. This made a great side salad. Thanks mama's kitchen for yet another winner. Made for ZWT5 2009.
Seed and dice tomatoes. Chop onion and cilantro. Finely dice the jalapeno and mix all together in a large bowl. Set aside.
In a separate medium sized bowl, combine the garlic and half of the extra virgin olive oil. Brush the nopales with the garlic oil to coat using a basting brush, season both sides with salt and pepper to taste. Reserve the leftover garlic oil.
Place the cactus on a preheated a grill or grill pan over a medium-high flame and cook until limp, about 4 minutes on each side. Remove and allow to cool, then cut the pads into ¼-inch thick strips. Add to the tomato mixture.
Brush the shrimp with the reserved garlic oil and season with salt and pepper. Grill for 3 minutes on each side, until firm and pink and add to the tomato-nopales mixture.
Add the vinegar, tequila and remaining olive oil and toss to coat. Season with salt and pepper to taste. Serve in a lettuce leaf or corn tortilla.