Eggs With Bacon, Onions, and Potatoes (Hoppelpoppel)
loof751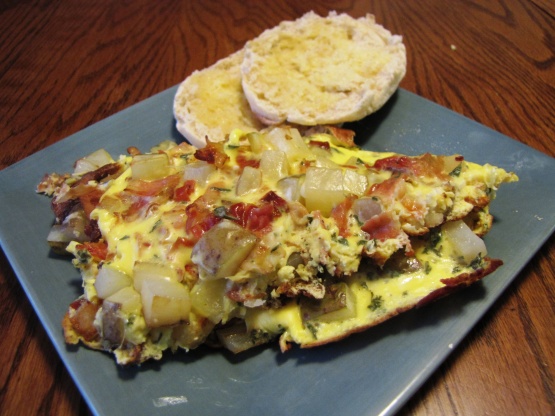 This makes a hearty and delicious breakfast. I call it a German omelet. You may substitute ham for the bacon. Feel free to add kale or beet greens or well-drained diced tomatoes to lighten it up a bit.

Oh yeah! this made a fabulous breakfast. i doubled it for the 4 of us. it all barely fit in my 12" cast iron skillet. leaving the eggs alone to cook didn't work real well with so much in the pan so it was scrambly. still tasty, tho. i used bacon fat to cook the onions then aded in diced ham. i diced the potatoes before cooking so they were just drained & added to the pan. tasty & filling. i think the kids just finished the last bit for lunch....made for ZWT 6/Zany Zesties. :)
Parboil the potatoes by first bringing a pot of of salted water to boil. Carefully drop the potatoes into the pot. Broil briskly, uncovered, until the potatoes are slightly resistant to piercing with a sharp knife. Be careful not to overcook the potatoes or they will be mushy in the final product.
In a 12-inch skillet, cook the bacon over medium heat until crisp. With a slotted spoon or tongs, transfer the bacon to paper towels to drain. Add the onions and cook for 5 minutes, stirring frequently, until they are soft and translucent. Turn off the heat and set the skillet aside.
Drain the potatoes, cool to the touch, then dice them (about 1/2 inch square). Add them to the onions in the skillet and cook over medium heat for 8-10 minutes, occasionally turning the potatoes with a spatula.
In a small bowl, beat the eggs, milk, pasley, salt, and pepper with a fork until well mixed. Crumble the bacon and add it to the potatoes. Pour in the eggs. Reduce heat to low and cook undisturbed for 5-6 minutes or until the eggs are set, but slightly moist.
To serve, invert onto a plate. Serve immediately.