Eggplant Salad (Melitzanosalata)
Rita1652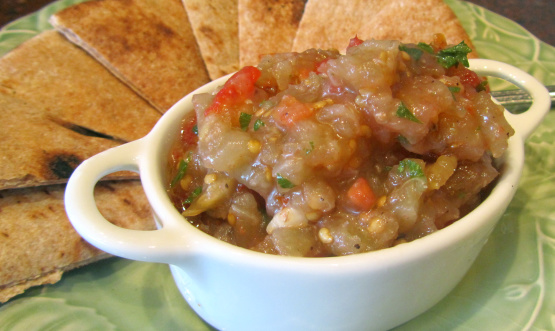 Recipe by Chrissa Paradissis' The Best Book of Greek Cookery. It was found in The Good Cook Salads

Awesome eggplant salad! Made as written, using black olives as I assumed that ripe olives should be black ones. I love eggplant everything, and this one will be a keeper. Thanks for sharing!<br/>Made for ZWT 9 / Greece for The Apron String travelers
Prick eggplants, place them in a baking pan and bake in 350F oven for about one hour or until soft.
Allow skin to shrivel and turn black so as to give a smoky flavor to the salad.
Peel eggplants whil still hot and chop flesh into small pieces.
Continue chopping while slowly adding the onion, garlic, tomato, oil, vinegar, salt and pepper.
Place in salad bowl and garnish with olives and green pepper rings.