French Tart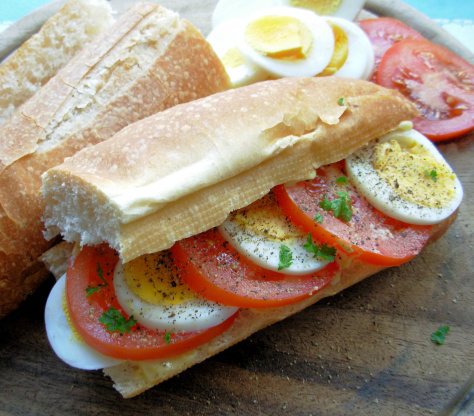 So simple and so delicious. I'm not sure why it never occurred to me to put this combo together, but when I lived in England, the little sandwich stand always had this on hand. I became completely addicted to it :) Depending on the size of your eggs, you might want to use 2 - you want enough to layer it down the length of the baguette.

Being English, this is a sandwich that I know and love! I loved the added addition of the black pepper and also the idea if using a piece of baguette too. A delicious sandwich what I made today for lunch using a large slice of Recipe #235909 that I had made this morning. I used home-made mayonnaise and plenty of black pepper with a smidge of sea salt. I am usually a "mash it all together gal" for the egg and tomatoes, but the flavours were still wonderful. Made for Veg'N'Swap and enjoyed very much. Merci Starry, FT:-)
Slice the baguette open length-wise.
Spread with mayo and sprinkle with the black pepper.
Layer the sliced tomato and eggs on top.
Replace top of baguette and enjoy!