Parsley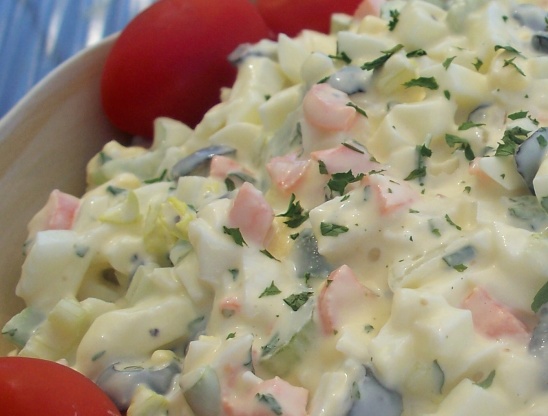 This is a nice way to feed a hungry crowd!. Cook time is for boiling eggs.From the Taste of Home magazine. You may also easily make 1/3 of the recipe for not so big a crowd. :)

Tasty and colorful! It's more of a "grown-up" egg salad, but to my surprise, my kids did eat it in sandwiches. (I thought the black olives would turn them off, but they didn't seem to notice). I did scale this recipe down to 1/3. Thanx for a great new eggsalad recipe!
In a large bowl, combine the first seven ingredients.
Whisk mayonnaise, milk, mustard, salt and pepper until smooth.
Stir into egg mixure.
Cover and refrigerate for at least 1 hour.
Garnish with lettuce, tomatoes and sliced egg if desired.
For sandwiches, spread about 1/3 cupful egg salad on one bread slice; top with another bread slice.
Yield: 50 sandwiches Note: If desired you may add 1/4 to 1/2 cup sweet or dill relish to the salad.