GaylaJ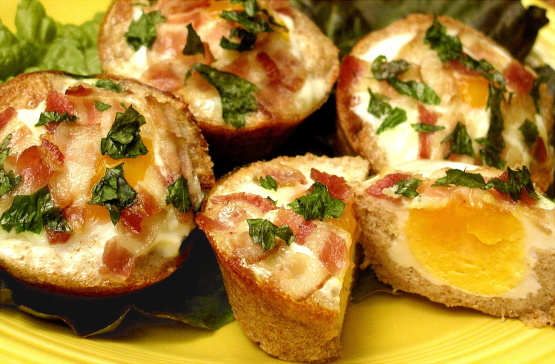 Great for brunch, kids lunches or just a snack. Try these I think you'll love them.

My son has early morning band practices a couple of times per week and he needed something quick to grab and run out the door. These were a huge hit with him. The first time I made them as directed. The second time I added a little finely chopped polish sausage and shredded cheese in the bottom and topped with uncooked scrambled eggs. Six scrambled eggs fit perfectly into 12 muffin tins. Either way these were a great on the go breakfast. Thanks for the recipe.
Brush each piece of bread with butter. Press into greased deep patty tins.
Break an egg into each bread case. Top with an even amount of chopped bacon. Sprinkle with a little parsley.
Bake in a moderate oven 180oC for 15 to 20 mins or until egg is firm.
Serve warm or cold.
Store in an airtight container in the fridge for up to 3 days.