Eating Suburbia's Banana & Oatmeal Scones
Annacia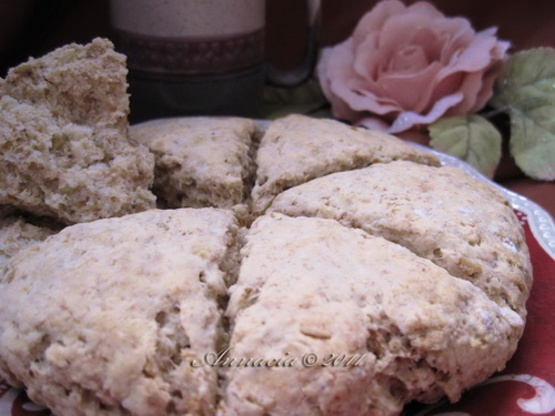 While researching an oatbran banana scone I was making to check if I had the proper ingredient quantities, I came across this intriguing recipe, so I decided to save it. There are plenty of options here, why not try them all?

Got a chicken in the oven right now but as soon as I take it out I'm going to put these scones in. My daughter had a friend stay over and when they wake up ( which may be at noon ) ha, you know those teenagers, they'll have scones. I'm going to try the suggestion regarding the two rounds instead of the drop method.
Combine dry ingredients; set aside.
Blend mashed banana, melted margarine, and soy milk until fairly smooth. Add in dry ingredients and optional item and mix just until moistened. Pour out onto floured board. Incorporate more flour if dough is too sticky. Cut dough in half and roll or pat each half into a circle, about 7-8 inches around. Cut into 8 wedges. Place on silpat or oiled baking sheet.
Bake 425 for about 10 minutes, until light golden brown.