Nasseh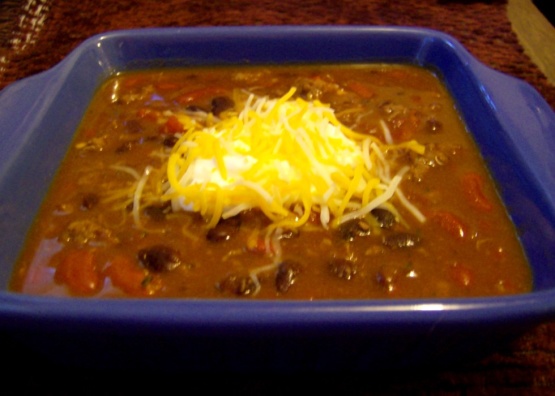 This recipe I created by taking multiple recipes and using what I thought was the most simple and flavorful ingredients to create a quick and tasteful soup.

Good solid start for a soup. Just to be clear, I did NOT make this soup exactly as directed so my star rating is based on what I "perceived" the recipe to be (I know that is not fair but I am always put off by someone giving a recipe 5 stars when they have made so many changes). After making a few changes I would give this 4 stars. First, I drained and rinsed all the beans. Because I didn't have the liquid from the beans I added about 2 cups of beef broth and omitted the water. I also added about a tablespoon of tomatoe paste, teaspoon of salt, and some fresh ground pepper. Still very easy and I appreciate the original recipe for giving me a starting point.
Brown hamburger and onion in large pot.
Add the seasoning packets with one cup of water to browned meat and onion.
Then add the remainder of the ingredients into the pot and cook on medium heat for about 20 to 30 minutes. When the hunger gets too much, turn down to low and serve.
Add the diced avocado, shredded cheese and sour cream to the top of the soup for added taste.