Easy Stuffed Green Peppers
KadesMom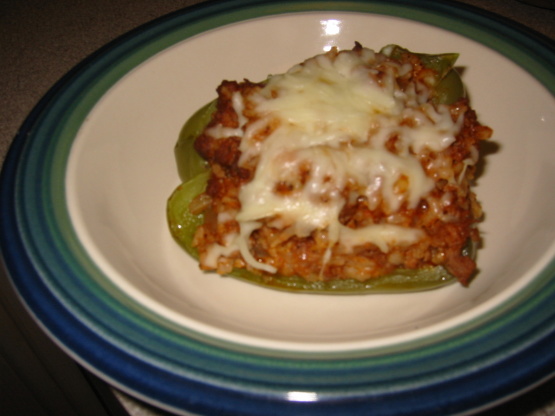 Very easy and exceptionally good. My hubby is a chef and he absolutely loves these. UPDATED: After review about cooking time, adjusted the cooking time below and made them again. Perfect.
Cut off tops of peppers and cut in half, lengthwise.
Put peppers in saucepan and cover with water.
Bring to a boil and cook for 10 minutes.
Meanwhile, cook ground beef, onions and garlic until browned.
Drain.
Add rice (2 cups prepared), tomato sauce and seasonings and cook on low until heated through.
Place green peppers in a casserole dish and spoon filling into peppers.
Bake at 350 degrees for 25 minutes loosely covered by tinfoil.
Sprinkle cheese over the top and bake another 5-10 minutes until melted.