Easy, One-Dish Spaghetti Bolognese
J-Lynn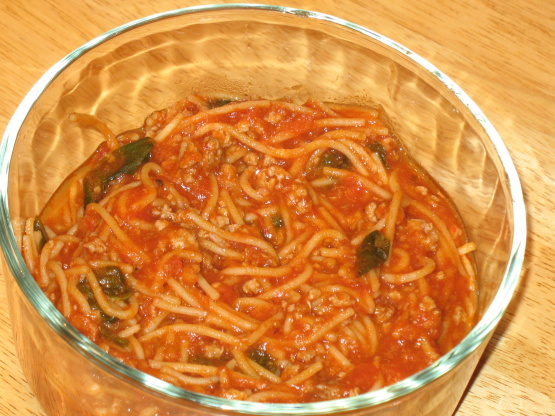 This is a true one-pot meal: meat, pasta, and veggies all cook together and, thanks to the super-skinny angel hair spaghetti, they cook together quickly. Plus, since you boil the pasta right in the sauce, the flavor soaks into every strand. Recipe is from Disney's Family Fun website.

Top Review by J-Lynn
Yummy and easy! Obviously, the taste of this recipe will depend on the quality of your sauce. I made as directed except didn't use any oil. (didn't miss it) In spite of adding the large amount of water, this dish still had plenty of hearty flavor, but I think all that water is unnecessary. I cooked mine for 20 minutes instead of 10, with the lid OFF the whole time so some liquid could cook off, and it was still a very runny sauce. Next time, I'll try 1 cup water and add more only if needed; I think then the salt could also be decreased. And even though I hate cooked spinach, I could not taste it at all in this dish and think I could safely double the spinach amount. Make it healthier! Delicious!<br/>*Made it again! Only used 1 cup water, no oil, and it was perfect!
In a large, heavy pot over medium heat, saute the beef until it is browning in places and no longer pink —3 or 4 minutes.
Add the sauce and cook, stirring, for a minute or two, then stir in the salt, sugar, olive oil, water, pasta, and greens.
Stir constantly until the mixture comes to a boil, then turn the heat down to low, cover the pot, and simmer gently — stirring frequently so that the bottom doesn't scorch —for 10 or so minutes, until the pasta is tender.
Serve with grated parmesan cheese.