Vegan Bolognese
photo by Prose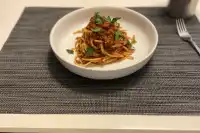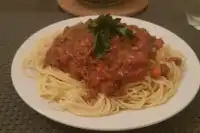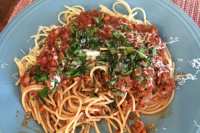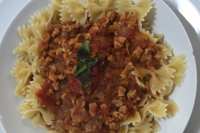 Ready In:

30mins

Ingredients:

17
directions
In a large dutch oven, heat the olive oil over medium heat.
Add the chopped onions and carrots and saute for about 5 minutes, until they begin to soften.
Add a pinch of salt and pepper to taste. Don't add too much as you will be adding soy sauce later for color.
Then add dry italian seasonings and crushed red pepper, if using. Mix well and add a bit more olive oil if pan looks dry.
Add minced garlic and stir until fragrant.
Next add the dry TVP, and stir to coat evenly with onion, carrot and spice mixture.
Then add the soy sauce, which will give the TVP great flavor, and a bit darker color.
Pan will be dry, so quickly add the cup of vegetable broth to rehydrate the tvp.
Stir to coat all the tvp well, scraping the sides of the pan if needed.
Let simmer for a minute or two.
Next add your can of tomato paste, mix well and cook for a minute or two before adding the large can of crushed tomatoes.
As sauce begins to bubble, be sure to stir in the tomato paste into the crushed tomatoes.
Reduce heat to low, and simmer while you cook pasta.
Cook whole wheat pasta in a large pot f boiling salted water for 7-9 minutes, or until al dente.
Drain pasta and place in large serving bowl.
Top with bolognese sauce, chopped fresh basil or parsley and serve.
Questions & Replies

STREAMING NOW: EDEN EATS VEGAN BOLOGNESE 4.81 (17) Recipe by Kozmic Blues "Cooking vegan for my favorite meat eater is quite an ... More Top Review by kilogramjam 19 PEOPLE DISCUSSING Join In Now OH MY GOODNESS this is so delicious! Thank you!!! :) See All Reviews MAKE A TWEAK ASK A QUESTION ADD YOUR PHOTO READY IN: 30mins SERVES: 6 UNITS: US INGREDIENTS Nutrition 1 -2 tablespoon olive oil 1 onion, chopped 1 carrot, diced 2 garlic cloves, minced 1 tablespoon basil 1 tablespoon oregano 1 tablespoon thyme 1 bay leaf 1 teaspoon crushed red pepper flakes 1 cup textured vegetable protein, not re-hydrated 2 -3 tablespoons soy sauce (or Braggs liquid aminos) 1 cup vegetable stock 1 (6 ounce) can tomato paste 2 tablespoons nutritional yeast 1 (28 ounce) can crushed tomatoes 1?2 cup fresh parsley or 1?2 cup basil, chopped 1 lb whole wheat spaghetti ADVERTISEMENT DIRECTIONS In a large dutch oven, heat the olive oil over medium heat. Add the chopped onions and carrots and saute for about 5 minutes, until they begin to soften. Add a pinch of salt and pepper to taste. Don't add too much as you will be adding soy sauce later for color. Then add dry italian seasonings and crushed red pepper, if using. Mix well and add a bit more olive oil if pan looks dry. Add minced garlic and stir until fragrant. Next add the dry TVP, and stir to coat evenly with onion, carrot and spice mixture. Then add the soy sauce, which will give the TVP great flavor, and a bit darker color. Pan will be dry, so quickly add the cup of vegetable broth to rehydrate the tvp. Stir to coat all the tvp well, scraping the sides of the pan if needed. Let simmer for a minute or two. Next add your can of tomato paste, mix well and cook for a minute or two before adding the large can of crushed tomatoes. As sauce begins to bubble, be sure to stir in the tomato paste into the crushed tomatoes. Reduce heat to low, and simmer while you cook pasta. Cook whole wheat pasta in a large pot f boiling salted water for 7-9 minutes, or until al dente. Drain pasta and place in large serving bowl. Top with bolognese sauce, chopped fresh basil or parsley and serve. MY PRIVATE NOTES Add a Note ADVERTISEMENT WATCH MORE Watermelon Cocktail Gummies (1m) Must-Try Ice Cream Sandwiches (4m) Tamarind Marinated Steak (47s) JOIN THE CONVERSATION ALL REVIEWS TWEAKS Q & A ASK A QUESTION Got a question? Ask it here! question by Anonymous just now (pending moderation) Hi there just wondering when to add the nutritional yeast. Also when to add the bayleaf? Many thanks RECIPE MADE WITH LOVE BY @Kozmic Blues CONTRIBUTOR RECIPES 344 TWEAKS 13 PHOTOS 271 YOU'LL ALSO LOVE Vegan Creamy Spaghetti Bolognese Vegan Creamy Spaghetti Bolognese Vegan Bolognese Vegan Bolognese I WANT TO MAKE Search here or try our suggestions below BACK TO TOP All Categories Newsletters Site Map About Us Contact Us See all Scripps Networks Digital © 2018 Scripps Networks, LLC. All Rights Reserved. Advertise With Us AdChoices Privacy Policy Terms of Use THIS WEEK ON GK: 54 Recipes You Need for Summer 21 Top-Notch Ice Cream Cakes Nigella: At My Table WATCH FREE ON DEMAND SHOWS RECIPES FOOD NEWS SUMMER GRILLING PARTY CENTRAL ABOUT US HOW TO WATCH OUR SHOWS Privacy Policy Contact Us Hi, Anonymous PROFILE SAVES ADD A RECIPE USER SETTINGS LOG OUT (For the Vegan Bolognese recipe) Hi there just wondering when to add the nutritional yeast. Also when to add the bayleaf? Many thanks! It does look delicious!

 
Reviews
Pretty good, but really you went too heavy on the spices. Did you mean teaspoon instead of tablespoon for the dry spices? And the amount of crushed red pepper flakes made it hotter than it should be for just a bolognese. Otherwise I liked it, and appreciated that it was not overly saucy. I will try it again, reducing the herbs and red pepper.

 

This was great!! I'm looking forward to using it more in recipes. My husband non-v liked it also! Yay. Something we can both eat. Great job! I've been so disappointed with vegan recipes. I'm loving TVP! I made some blah sausages trying to get a kielbasa flavor. Now I'm encouraged to try again, and again.

 
Tweaks
I used this recipe as a base, and then added a lot of additional stuff. It turned out great!<br/>- I added maybe 2 cups of diced button mushrooms and more garlic.<br/>- I used half olive oil, half toasted sesame oil for saut?eing the veggies because I think that gives the dish a fantastic flavor.<br/>- I added about 2/3-3/4 cups of red wine.<br/>- I only used one 14 oz can of crushed tomatoes, but added maybe 3/4 cups of soy milk. I like my bolognese thick and creamy!<br/>- Instead of nutritional yeast, I used about 1/2 cup of vegan parmesan.<br/>- I added the basil to the sauce before serving, instead of using it as a topping.

 
RECIPE SUBMITTED BY
Friend me on Facebook: <a href="http://www.facebook.com/rebekah.reid" title="Rebekah Reid" target="_TOP" style="font-family: "lucida grande",tahoma,verdana,arial,sans-serif; font-size: 11px; font-variant: normal; font-style: normal; font-weight: normal; color: #3B5998; text-decoration: none;">Rebekah Reid</a> | <a href="http://www.facebook.com/badges.php" title="Make your own badge!" target="_TOP" style="font-family: "lucida grande",tahoma,verdana,arial,sans-serif; font-size: 11px; font-variant: normal; font-style: normal; font-weight: normal; color: #3B5998; text-decoration: none;">Create Your Badge</a><a href="http://www.facebook.com/rebekah.reid" title="Rebekah Reid" target="_TOP"><img src="http://badge.facebook.com/badge/1059979755.389.889814801.png" alt="Rebekah Reid" style="border: 0px;" /></a> Follow me on <a href="http://twitter.com/Becky_R">Twitter!</a> <a href="http://web.me.com/kozmic_blues">My Website!</a> <a href="http://beckystastyplanet.blogspot.com/">Food Blog!</a> <a href="http://gallery.mac.com/kozmic_blues">Photo Gallery!</a> Thanks for visiting my "About Me" page!! I'm Becky and I live in Providence, Rhode Island. I probably enjoy cooking more than almost anything...which is why I adore this site so much!! Nothing makes me more happy than to create a meal for family and friends to share together and ENJOY. <img src=http://t0.gstatic.com/images?q=tbn:mxVQnIIYIrpqKM:http://quakeragitator.files.wordpress.com/2009/04/autism_awareness_logo3.jpg><img src=http://tbn0.google.com/images?q=tbn:AfhXhWEtLQYbVM:http://www.marriageequalityri.org/photos/shop.a1.jpg><img src=http://t0.gstatic.com/images?q=tbn:iSI4l3JhSOqKPM:http://marriagerights.files.wordpress.com/2008/11/gay-pride-flag-738850.jpg><img src=http://tbn0.google.com/images?q=tbn:1J1-2O7PWW4c5M:http://www2.hawaii.edu/~mccorkhi/vegan.jpg> <img src=http://i335.photobucket.com/albums/m445/mliss29/vegn%20swap/vegnswap.jpg> <img src=http://i335.photobucket.com/albums/m445/mliss29/vegn%20swap/group07kiwi.jpg> <img src=http://i335.photobucket.com/albums/m445/mliss29/vegnswap1/group02banana.jpg> <img src=http://i335.photobucket.com/albums/m445/mliss29/vegnswap1/group12starfruit.jpg>
View Full Profile