KadesMom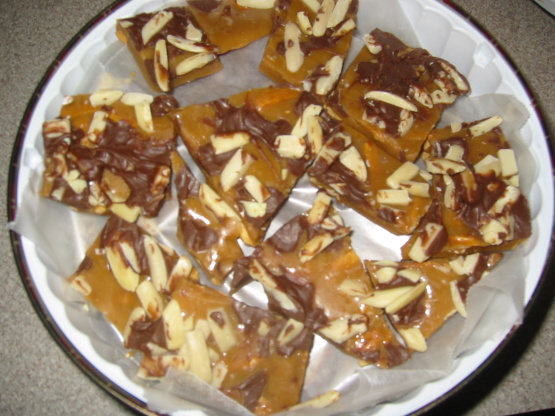 I found this recipe and kept loosing it--and let me tell you, you don't want to lose this delicious toffee recipe. They are quick and easy, but make sure you have a candy thermometer before you start.

I tweaked this a bit. I made the toffee as directed (chopping my pecans moderately fine with hand grinder) but when it had started to set up but was still hot, I scattered 1/2 bag (~1 cup) milk chocolate chips on top. I let them sit about 30 sec to melt and then spread over the top. I then sprinkled the top with finely ground (like coarse cornmeal) almonds (~1/2 cup). It looks and tastes like almond roca this way.
Combine butter, brown sugar, sugar, corn syrup, and water.
Microwave on high 2-2½ minutes until butter is melted.
Stir well to blend butter and sugar.
Stir in 1/3 cup almonds.
Microwave on high for 9-11 minutes until the temperature reaches 300°F.
Pour on to a baking sheet.
Break candy bars into small pieces and sprinkle them on top.
Sprinkle the remaining almonds on the top also.
Let toffee cool until it hardens, then break it up into small pieces and enjoy.