Easy Homemade Almond Roca
Camzmom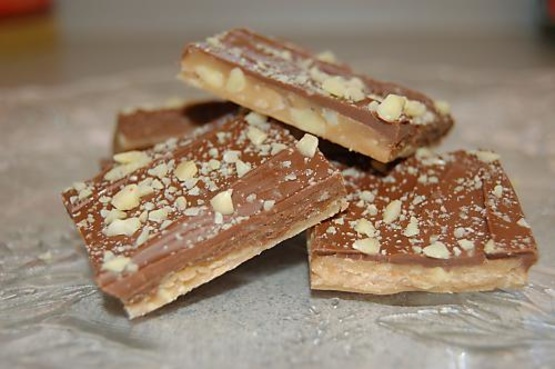 I love almond roca!! I found this copycat recipe at massrecipes.com and it tastes exactly like the real thing to me! Mmmmm.
Ok. First, ignore the post about using brown, rather than white sugar. You want the flavor of a slightly "browned sugar." Secondly, buy a candy thermometer, if you don't have one. This is a science. Not an art. Third, brown slightly the almonds. Buy slivers. Keep a keen eye out during this process, as they will go from golden to ruined in an instant. Obviously, this can not be done at the same time you are preparing your candy mixture. Unless, you have six hands and three eyeballs. Do it first. Let the almonds rest for a bit, then put them in the very heaviest duty "ziplock" bag you can find. Grab a hammer. Pound those almonds into submission. The finer the better. Lastly, no need to melt the chocolate simply place them, scatter them, put them all over your toffe, when you pour the mixture into the buttered pan and they will melt on their own. Just spatula to spread the chocolate before adding the remaining toasted almonds. Do refrigerat, or cool. But not too long, no more than two hours, or the chocolate will separate from the toffee. Make four pans. Will take up your evening. But, armed with wax paper and about 10 decorative tins from the dollar store, YOU are now a winner ...
Over Medium heat, melt butter in a large pot.
Add corn syrup, water and sugar to pot and cook until temp reaches 290 degrees OR until the mixture becomes the color of a brown paper bag (about 15-20 minutes) stirring constantly with a wooden spoon (mixture will rise and bubble quite a bit).
Remove from heat and Stir in 1/2 of the Almonds.
Turn mixture onto a greased cookie sheet WITH EDGES!
While the mixture is cooling, melt the chocolate over low flame until all the chips are gone, and chocolate is smooth.
Score the Almond butter mixture into the shape you desire (I just scored into rectangle shapes).
Pour the hot chocolate over the almond mixture and spread evenly.
Sprinkle with remaining almonds and allow candy to cool completely and chocolate to harden before breaking apart and serving.
Note: I let mine refrigerate over night after breaking the into squares, and they had a better texture this way, we thought.