Bobtail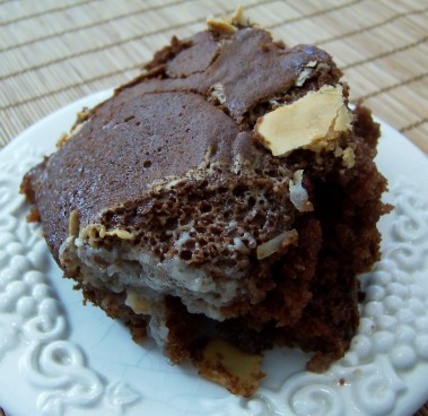 I got this from a SW cookbook some time ago. It gets its name because the cake is cracked with crevices on top when done. If you love German chocolate cake, but hate the time consuming process,,,this cake is wonderful!! It reminds me of my grandma's 3 layer German chocolate cake. It's too rich for just the two of us, so hubby looks forward to family gatherings and holidays or his birthday, smile. I love this because I love cream cheese and German chocolate and the fact that it is super easy!

A friend of mine introduced me to earthquake take a long time ago and it's absolutely fab... Every party I've ever taken it to has RAVED about it. I use butter instead of margerine and I heat the butter and cream cheese in a small pan and whisk until smooth before adding the powdered sugar which is far easier... also makes it easier to pour onto the cake instead of trying to spoon in large globs... It basically makes a cream cheese frosting that's baked into the center of the cake.

Here's the thing though... I consider it more of a method than a recipe... you can literally use ANY boxed cake mix prepared to box instructions and any "fillers" you want. So far I've made the following variations:
Pina Colada Earthquake Cake: Coconut Cake with Dried Pineapple & Coconut Flake filler
Almond Joy Earthquake Cake: Devil's food Cake with Almond & Coconut filler
Symphony Bar Earthquake Cake: Devil's food Cake with Toffee Bits & Almond Filler
Butterfinger Earthquake Cake: Chocolate Cake with Crushed Butterfinger Filler

The possibilities are endless! :)
510.29

g German chocolate cake mix

295.73

ml water (or as called for by the cake mix directions)

3

eggs (or as called for by the cake mix directions)

118.29

ml oil (or as called for by the cake mix directions)

236.59

ml coconut

236.59

ml pecan pieces

118.29

ml margarine, softened

226.79

g cream cheese, softened

453.59

g powdered sugar

4.92

ml vanilla
spray 9x13" pan with oil and set oven to 350°F.
spread the coconut and pecan pieces evenly on the bottom of pan.
prepare the cake mix according to directions on box, and pour over coconut and pecan pieces
mix well together: margarine, cream cheese, vanilla and powered sugar.
spoon over cake in dollops, no need to spread evenly.
bake for approx 40-50 minutes.
check with toothpick for doneness.
cake will be cracked on top, but should be a moist cake.