Down to Earth Granola Weight Watchers
Redsie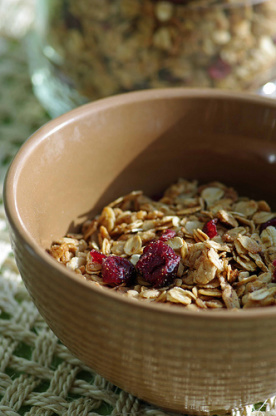 Weight Watchers recipe - 1 cup = 4 points

THIS IS NOT 4 POINT FOR A CUP! I calculated with with honey, oil, nuts, Splenda 1/2 brown sugar and oats only, no raisins, etc. At 9 servings at 1/2 cup each, this calculates to 5.48 points, so a cup would be more like 11 points. Confused as to why the notes say 4 pts for a cup, but the recipe makes 12 servings, doesn't calculate. It's 2320 calories for the recipe I calculated - 1200 of them coming from the oats, 160 from the honey, 480 from the oil, 380 from the nuts and only 100 from the Splenda/sugar. Total fat is 106g, total fiber is 38. I'm so disappointed, I had planned to bring this in to my Weight Watchers group to share, and have made this several times for myself. BTW, I'd love to be proved wrong. This does taste delicious if you're not on a diet tho.
In a bowl, mix oats, almonds, brown sugar, salt and cinnamon. In a sauce pan, warm the oil and honey. Whisk or stir in the vanilla. Carefully pour liquid over the oat mixture. Stir gently with wooden spoon, finish mixing by hand.
Preheat oven to 300°F Spread granola in a 15x10x1" pan. Bake 40 minutes, stirring carefully every 10 minutes.
Transfer granola-filled pan to a cooling rack. Cool completely.
Stir in raisins or dried cranberries. Seal granola in an air-tight container or self sealing plastic bags.
Store at room temperature for 1 week or the freezer for 3 months.