Double Chocolate Cherry Cookies
Marlene.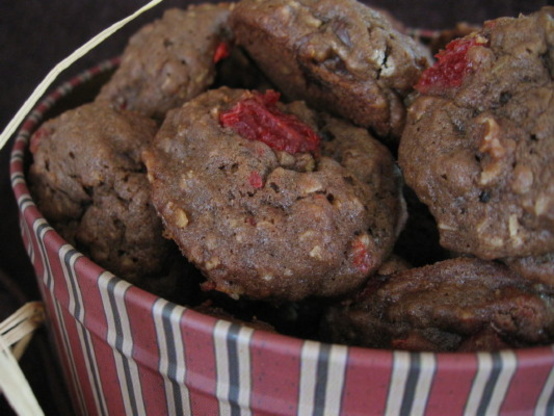 YUMMY...with chocolate and cherries--what's not to love?
Your introduction says it all for me ... chocolate and cherries, what's not to love! LOL I DID have to make a change, which I don't like to do when trying a recipe for the first time, but I never have dried cherries. I used extremely well drained and paper towel patted dry maraschino in place of the dried. They worked wonderfully! These will definitely be made again , it's one of my favorite flavor combinations!! Thanks for posting this recipe! (and I'm glad I lost the bet! I got a new cookie out of it! LOL)
Heat oven to 350°F.
In a large bowl, beat sugar, butter, milk, almond extract, and egg with an electric mixer until smooth.
Stir in remaining ingredients.
Drop by rounded tablespoons about 2 inches apart on ungreased cookie sheets.
Bake 10-12 minutes or until no longer shiny.
Immediately remove from cookie sheet and place on cooling rack.