PaulaG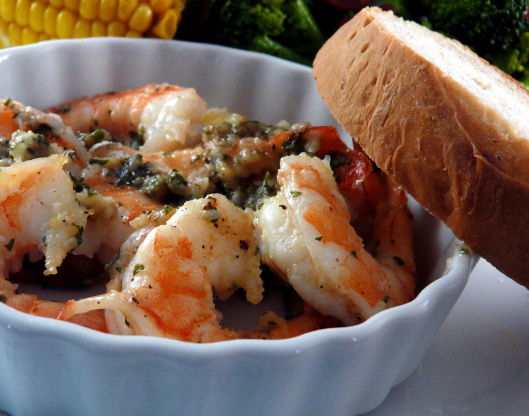 This is a wonderful Shrimp Scampi that I learnt from an Italian cook who introduced me in making Diabetic foods. My father is very ill with Diabetis and loves his foods (of course) This recipe as a "hit" with Dad. A tasty blend of Shrimp and Garlic.
Top Review by PaulaG
This was selected for the Photo Forum *LOW IN OR FREE OF* event. It is a very quick and delicious meal. I did use left over shrimp and added it just to warm. There is no way that the recipe would serve 4 in my house. The full recipe made 2 nice servings of 7 medium shrimp each.
Directions.
Heat butter and oil in large non-stick skillet over high heat. When butter starts to brown, add garlic. Lower heat; cook 1 minute, stirring to prevent garlic from overbrowning.
Add shrimp; cook 2 minutes, stirring occasionally. Add wine, lemon juice, salt and pepper; cook 2 minutes or until shrimp are cooked through. Stir in bread crumbs and parsley. Serve immediately.