Danish Christmas Red Cabbage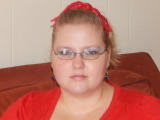 In Denmark it is traditional to serve a cooked pickled red cabbage for the Christmas Eve dinner. This is my grandmother's, and it is so easy to make and will be a great side dish to any roast duck, turkey or goose. When reheating, I like to add a tablespoon of black currant jam to enhance the flavor.
Directions
Place the cabbage in a large saucepan, and stir in the sugar, vinegar, salt and water. Bring to a boil, then cover and simmer over medium heat for 1 hour. This can be served immediately, or chilled and reheated later in smaller portions.