Redsie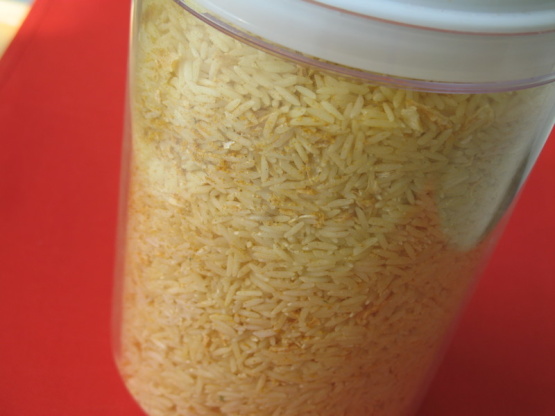 Once you do the prep, divide into 3 airtight containers, for here it is only 20 mins to the table whenever you need it. I have three-seasoned rice mix recipes see which one you like best. Look for the other two Chicken Flavored and Onion Flavored Rice Mix.

What a great tasting ready to cook rice dish!! Sooo much better than anything I could buy in the store. This is a Keeper!!! Thanks for posting.
Combine all ingredients and mix until evenly distributed.
Store in a cool dry place.
Use within 6 months.
Cooking directions: for 8 (1/2 cup) servings.
Boil 3 cups water in a covered pan.
Add 1 1/3 cups of rice mix; stir.
Cover and simmer for 20 minutes or until liquid is absorbed.