Curried Chicken Tea Sandwiches
GaylaJ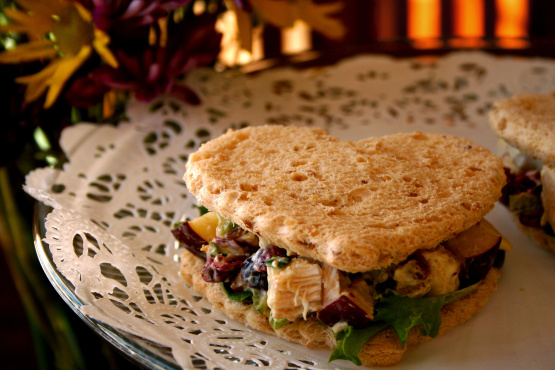 These tea sandwiches have chewey dried cranberries and crunchy pecans, the sweetness of apple and the spiciness of curry on heart-shaped bread.

I am so sorry you received the last review as it tainted the recipe. I went and made it anyhow because I saw great reviews before it and on another site. It was super. I served it to a bunch of ladies and it was instantly gone. I used a different cookie cutter shape but followed it exactly. I think with curry you have those who like a hint of it and those who like a ton. This was a mild flavorful recipe but not overdone. I also served it to my husband after and he raved about it. If you feel that it might be too sweet for you use a more tart medium apple. Great tea sandwich and regular any day sandwich, just make it bigger. Enjoy and thanks for posting sugarplum. ChefDLH
Combine the fist 6 ingredients thru green onions.
Combine mayonnaise, lime juice and curry powder; add to chicken mixture and stir to coat.
Cover and refrigerate until ready to serve.
Cut each slice of bread with a 3" heart-shaped cookie cutter; top with lettuce and chicken salad.