Curried Butternut Squash & Apple Soup - Crock Pot
GaylaJ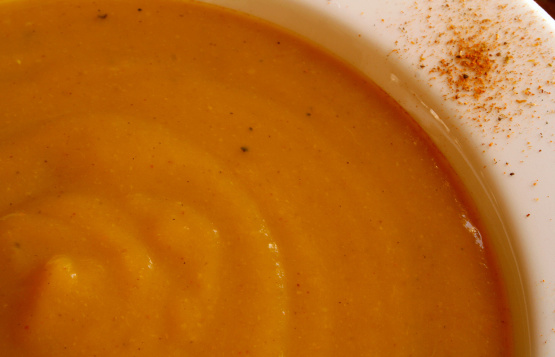 A Cuisinart slow cooker recipe. Use vegetable stock instead of chicken stock for a vegetarian alternative.

Top Review by rmemom
I found this soup to be delightful and easy as pie. I too confess to using uncooked rice, (the recipe wasn't clear) but the end result left me wondering if it was a mistake at all. After pureeing, it was like silk. I thoroughy enjoyed evry bite. Oh, and I used half chicken and half vegetable stock.
In a skillet, melt butter over medium heat.
Add onions& celery and cook for 2 to 3 minutes, until the vegetables are translucent.
Add curry powder and ginger and cook for 5 to 6 minutes longer over low heat, until veggies are softened and spices are fragrant.
Place butternut squash, apples, and rice in slow cooker (in that order).
Add veggie mixture from skillet.
Add chicken stock, salt and pepper.
Cook on high for 1 hour, then reduce to low temperature and cook 5 additional hours.
Puree the soup to a completely smooth texture with hand blender or blender.
Enjoy!