ImPat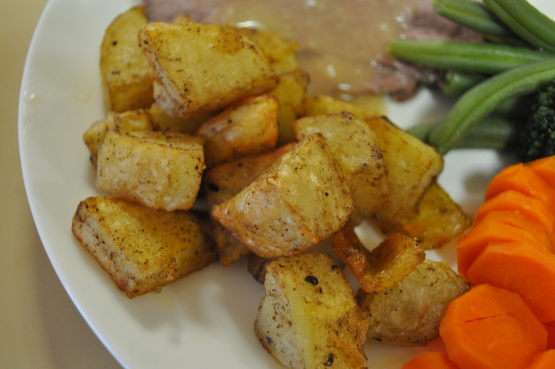 This is a regular family favourite that we serve with Moroccan or Lebanese style meals. Or Greek or Italian-whatever we feel like I guess! And we love these so much, 2 spuds each is almost not enough!

Top Review by Merlot
Since there was only two of us for dinner, I cut this recipe in half. This is a delicious potato dish and so easy to make. I have just recently discovered cumin and have been cooking more and more with it. And you are so right, this goes great with Middle Eastern food. Thanks for sharing this. :-)
Peel the potatoes and cut into 2cm cubes.
Place on a baking tray and sprinkle with the cumin and plenty of salt and freshly ground black pepper.
Pour the oil over and tumble the potatoes around until they are well covered.
Bake in a preheated moderate to hot (350-400) oven until browned and crispy-about 30 minutes.
Serve with Eastern style meals.