Indian Cumin Potatoes ( Jeera Aloo )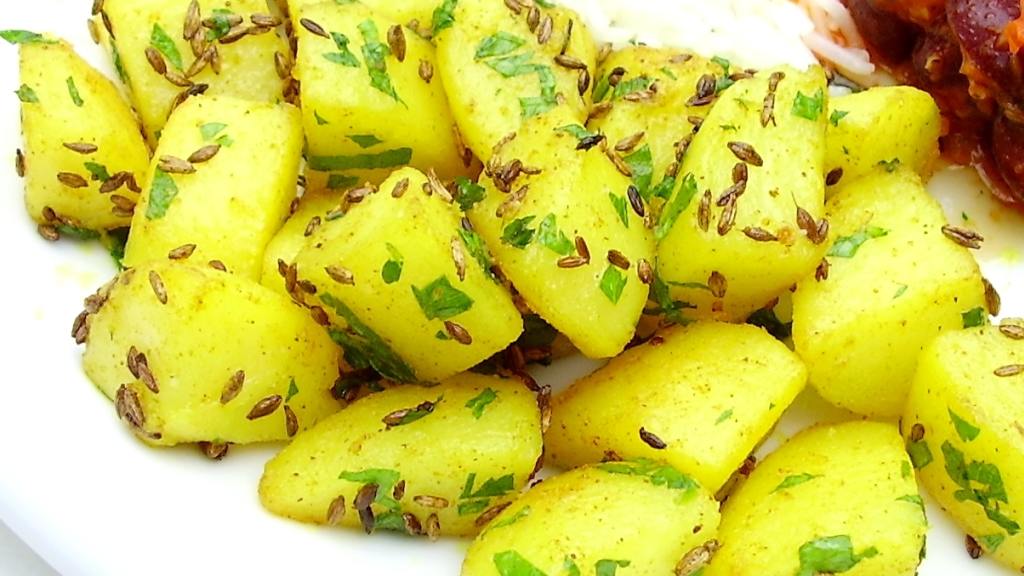 Ready In:

45mins

Ingredients:

8
directions
Wash, peel and cut potatoes in 3/4 dice or wedges, or leave skin on if you prefer.
Bring potatoes to a boil in water and 1/2 t salt. Cover and let boil for 5-8 minutes until just cooked.
Drain and let steam off moisture until they have a sort of dry outer skin, 10-15 minutes, or let cool completely and keep in the fridge up to 2 days. Make sure they are dry before frying.
Heat oil in a large non-stick pan over medium high heat. Add cumin seeds and fry 30-60 seconds until they turn a shade darker and give off smell.
Add potatoes and sprinkle with turmeric. Shake pan and fry potatoes about 10 minutes, stirring occasionally, until evenly golden and crisp. The trick is not to stir too frequently, so that a crust can develop.
Sprinkle with coriander or parsley and taste with salt. Shake pan to mix and serve. You can drain potatoes on paper towels first, before adding the fresh herbs if you like.
NOTE: The recipe can be done with other starchy vegetables like sweet potatoes or plantains, but I never tried those.
Join The Conversation
We made these with cumin powder instead of seed, cause didn't have the seed. Used 3/4 a teaspoon of the powder and added it to the oil with the turmeric, then fried the diced potatoes, and it was heavenly. We used fresh cilantro at the end and mixed it with #67880, Salmon cutlets in Indian creamy sauce - what a great ombination!!! Thanks so much for the recipe, Inge! Oh, another note, listen to not turning the potatoes, just let them get a brown crust - 10 minutes is just about perfect - five for each side. Beautiful.

Made some chole and a spinach dish last nite and decided NOT to have rice with this Indian meal. Lucky for me that I found this recipe. Also lucky was that I already had the potatoes in fridge to make a salad...forget the potato salad, my potatoes thank you for the honor of appearing in this savory delight. I did tweak it a little bit though...I added some black mustard seeds along with the cumin. I only had ground coriander so I added that with the turmeric. This was the crowning jewel to the rest of my dinner. I will be making this alot. BTW, one of my students, from India, said it was ALMOST as good as what his mother makes...high praise, indeed.

These were delicious potatoes. Very simple to prepare and easily paired with a lot of different meals, not just Indian cuisine. I actually made this recipe twice. The first time omitting the salt, as a member of the family has health restrictions. Even with the toasted cumin, tumeric and cilantro, the potatoes were surprisingly bland. The second time I made the recipe, I made them for myself and used the recommended amount of salt, which marries all of the flavors together and intensifies them. The recipes works well as written. Thank you Inge for sharing the recipe.