GaylaJ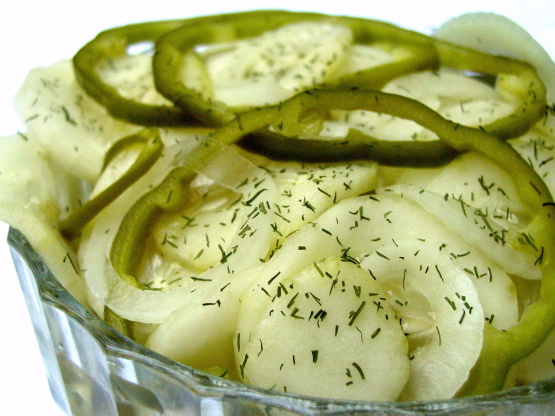 This is a wonderful cucumber salad my grandmother used to make. It's great during bbq's and for picinics and as side dish during holidays

I was intrigued was the ingredients when I saw this recipe and just had to try it. Followed instructions exactly and produced a most interesting cucumber salad. It was sweet and refreshing and tasted almost like bread and butter pickles. The next time I make it, I will cut down on the water, sugar, and vinegar (at least in half) as I felt the salad had way to much liquid.
Combine the first 3 ingredients in a large container with a tight fitting lid.
Combine the remaining ingredients in a glass or teflon coated sauce pan and bring to a boil stirring constantly.
Let boil for 1 minute making sure sugar is completely dissolved.
Remove from heat and pour over cucumber mixture.
When cool place lid on container and refrigerate over night.