Grandma Varga's Hungarian Cucumber Salad (Uborkasalata)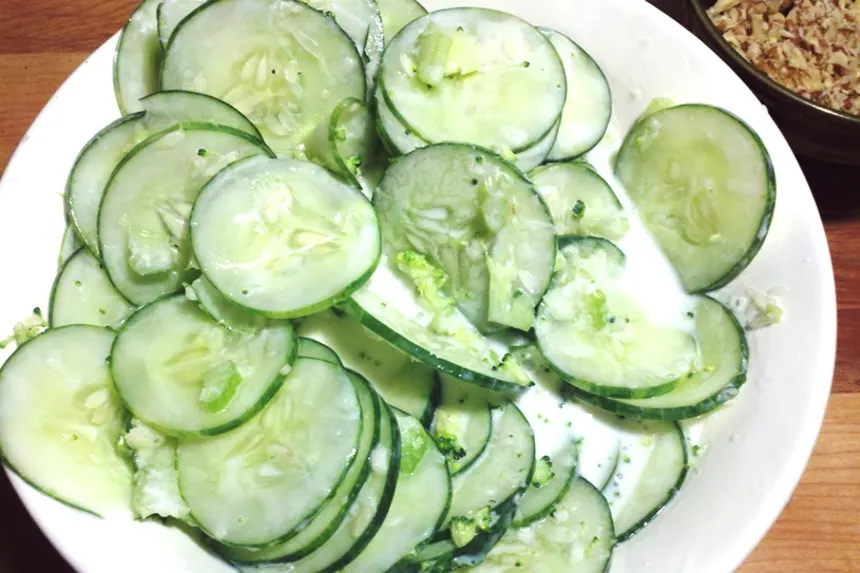 photo by inga R.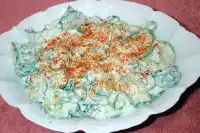 Ready In:

30mins

Ingredients:

7
directions
Slice cucumbers very thinly, preferably using a mandolin.
Take a colander, put in a small layer of cucumbers, then sprinkle with a small amount of the salt.
Continue this method until all the salt and cucumbers are used up.
Cover the cucumbers with a plate inside the colander, and put a very heavy weight on top.
Make sure the colander is in a large bowl, because the cucumbers will lose alot of water.
Let them sit for 1 hour.
In the meantime, chop the dill and finely mince the garlic, put aside.
After 1 hour, take a handful of cucumbers, and squeeze out as much juice as you can, and continue until they are all done.
Rinse thoroughly with water, drain well.
After the cucumbers are done, return to the colander, and weight down one more time for about 15 minutes.
You do not have to squeeze out the juice again with your hands Combine all ingredients in a large bowl, except the paprika.
After mixing thoroughly, put in a nice serving dish, and sprinkle with the paprika.
Chill for at least 2 hours.
Enjoy.
Nutritional information shows a high amount of sodium, but the vast majority is pressed out by your hands. The main function of the kosher salt is to purge the moisture out of the cucumbers.
Questions & Replies

My mother used to make a dish that I, as a child, just called - the Beef with brown sauce. It was small slices of what I thought was some sort of beef in a brown sauce over rice. My sister told me the beef was actually beef hearts...but I'm not sure. Did anyone's Hungarian relative ever make anything like this? Thanks

 

Hi. My paternal grandmom made this recipe ( she passed before I was born) . My mom and I have continued it cause we really like it. But I grew up with it being called gorecki (phonetic spelling). Just wondering if anyone knows that word or the proper spelling since I'm sure it's been pronounced wrong over the years and if it even means anything to do with cucumbers Thanks

 
Reviews
Thank you for posting a genuine Hungarian recipe .This is the way my Grandma Vajda used to make her cucumber salad.So many recipes are being lost forever as the old folks pass away.We must keep them and celebrate our wonderful hereitage.This recipe is excellent and very refreshing during our hot summer months.Thank you again.

 

Just the way 'we' make it!!!! This recipe comes from the old country. It's one of my favorite ways to eat cukes.We ate Paprikas & goulash every Sat. nite. That's why I have tons of recipes here. This salad was made often in our home. I never grew tired of it. My kids love this as well. Thnx for sharing a time honored recipe with all of us..glitter

 

I thought the garlic listed was just a bit too strong for me. If I change this to 1 clove garlic it is certainly 5 star and certainly a keeper!! Absolutely delicious. It really is a must to leave it sit in the fridge for the flavours to meld because the next day, even with though still garlicky, it was very good. Perfect to make for a day ahead for a party. Thanks for this Anthony.

 
Tweaks
BEST SALAD EVER! Slight difference with my mom's recipe (both my parents from Hungary as well). No dill, I think that is a preference for those who have grown up with it. Cucumber, salt, sugar, vinegar and a lil water. YES you MUST add a bit of sugar to offset the vinegar. We sprinkle the paper thin cucumber slices with salt, sugar & some vinegar and let set for an hour or so. Then gently squeeze out the extra "water". Then we proceed to make the "dressing". You can utilize as many cucumbers you want, depending on how much you want to serve. As my mother has made this since was 5 yrs old (not kidding), she does everything my sight...Not one measuring spoon or cup around.

 
RECIPE SUBMITTED BY
I am part of a family deeply rooted in food and cooking. My 2 grandmothers were in the restaurant and food service industry for years. Our family get togethers were like Royal banquets. Growing up in a multi-ethnic family, (Greek-Hungarian-German-Italian + ) we were blessed with a vast array of foods. I am passionate about making the family recipes today, and passing them on to my children. Cooking is an artform, not to be taken lightly. All if the prepared food you can buy today is overpriced, not really good for you, and to say the least, quite unsavory. People need to take the time to make the old family recipes from the heart, "soul food" if you will. Always use fresh ingredients, dont be afraid to buy the best. If you can, go out of your way to an ethnic grocer, and buy from them. Chances are, their ingredients will make your recipes taste even better.
View Full Profile