Crustless Leek, Bacon & Cheese Quiche
RonaNZ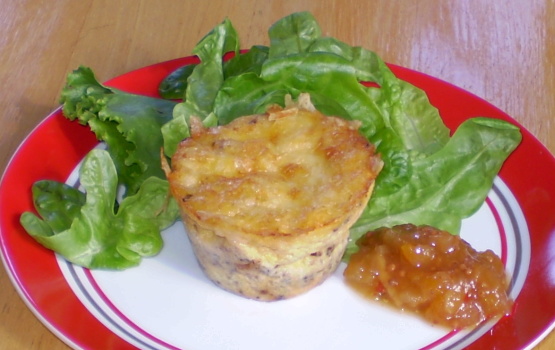 Tried a leek quiche at a friends house, and even though my partner doesn't like leeks, he like that one. This is my version as I didn't want to ask for the recipe, but I reckon this one beats it hands down anyway :) Also, had to remove crust as doing a carb-reduced diet.

Top Review by RonaNZ
I made this recipe up as mini quiches in a muffin tin (made 12 regular muffin size quiches) and took it to a brunch with friends, hoping to bring some back home. No such luck! They all went and were thoroughly enjoyed. I made half of them without bacon to cater to the vegetarians in the group, otherwise made as written, except I baked at a lower temp for half an hour since we went out for a bike ride after I put them in the oven. I thought I was going to get away with not exercising but my daughter made me go. They turned out nice and creamy but not browned on top so I gave them a quick blast under a hot grill just to brown the top. I have to say they looked very appetising and tasted great. Update 19/4/08: Made another batch with onion this time and served with my Recipe #260773. Also froze some as I'm sure it will freeze well. I'll report back later.
Turn on oven to 180°C to let oven come up to temperature.
Slice leeks finely. Slice bacon into strips, and again into pieces. Grate cheese.
Fry bacon with a little butter, then add leek and fry until soft. Remove from heat and set aside.
In a bowl, break all eggs. Whisk and add dijon mustard. Continue whisking.
In a shaker, add milk, cream and flour. Shake to mix, then add to egg mix whilst continuing to whisk. Season with salt & pepper.
Add first measure of cheese and mix well with egg mixture.
Assemble leeks and bacon in quiche dish (26cm), add egg mixture and use hand to mix all together.
Add remaining grated cheese to top of mixture and sprinkle with paprika (optional).
Bake for 20-25 minutes at 180°C, or until center is set.