KaraRN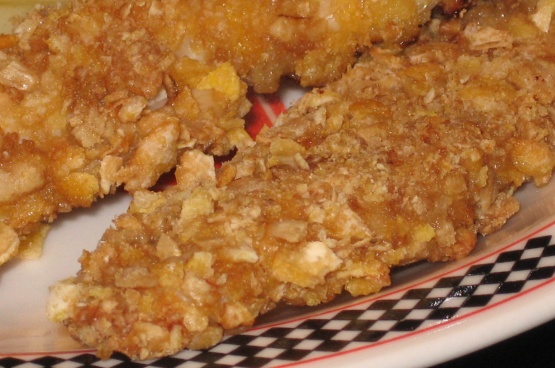 From Kraft. Great for football season!! ;)

Top Review by KaraRN
Yumm! Very easy and good. I do this also with just plain cornflakes too. I never thought of using Honey Bunches of Oats. This was very yummy. I didn't use the barbecue sauce though. Instead I served it with home made honey mustard - just because we prefer chicken strips with honey mustard. Thanks for posting! Made for Fall 07 Photo tag.
Preheat oven to 375°F Beat eggs lightly in shallow dish or pie plate. Dip chicken in eggs, turning over to evenly coat both sides of each strip. Coat chicken evenly with cereal. Place in two 15x10x1-inch baking pans sprayed with cooking spray.
Bake 25 minute or until chicken is cooked through.
Serve as dippers with the barbecue sauce.