Crisscross Roasted Potatoes
Hey Jude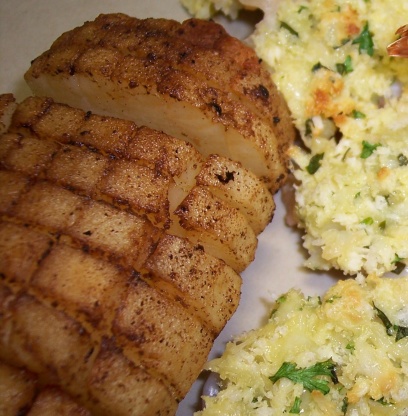 Makes a wonderful presentation on your dinner plates. Potatoes are crisscross cut, brushed with butter, sprinkled with spices and baked. An easy throw in the oven and forget it dish.

Great recipe, my husband and neighbor loved them, will be making many more times in the future!!!!
Peel and cut each potato crosswise at 1/4" intervals to within 1/2" of the bottom of potato.
Cut lengthwise (in the opposite direction) in the same manner, creating the crisscross pattern.
Be sure not to cut all the way to the bottom.
Place potatoes in ice water for 30 minutes.
Dry potatoes and place in a baking pan.
Brush with melted butter.
Mix spices together and sprinkle on top of potatoes.
Bake at 425°, turning and basting every 15 minutes for 45 minutes or until tender.