Creole Sausage & Bean Bake
Bergy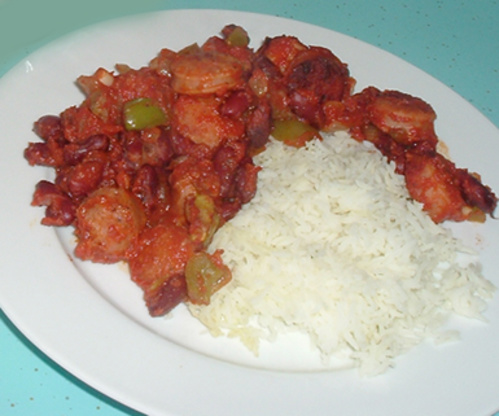 This is a very spicy, hot, Creole dish that I first had while staying with friends in "Naw'lins". The spiciness/heat can be adjusted to your tastes by using a milder sausage than suggested and cutting down on the amount of hot pepper sauce added. Its wonderful served over rice. This recipe doubles well for larger groups. (1 hr 15 minute cooking time includes browning the sausage and cooking the veggies.) Andouille, Creole Hot, Chaurice (New Orleans style Creole)or Italian Hot sausage work best in this recipe.

Top Review by Bergy
Loved this recipe - cut it back to a one can of kidney bean size, used M & M lean sausages and 2 tbsp Denzil'e Kamikazi hot sauce - perfect! I will definately make this again. Perfect for a cookout dinner, served with BBQ corn on the cob and a salad. The caserole could be heated in the BBQ on the rack but I would cover it in the BBQ Thanks Dee a saver for sure. Added comments 21 May04 I had some leftovers so I made hot wraps with them. Just spoon the Sausage & beans into a soft tortilla, roll and place seam side down in an oven proof dish, mist with a light spray of oil, heat in 350F for 30 minutes first 20 lightly covered with loose foil last 10 minutes uncovered. Great for a snack, or a whole meal
In a large skillet, add sausage and 1/2 cup water.
Cover and cook on low heat for 5 minutes.
Drain sausage.
Continue cooking sausage, uncovered, until browned.
Add onions, green peppers and garlic.
Cook until vegetables are tender but not brown.
Stir in beans, tomato sauce, 1/2 cup water, sugar, crumbled bay leaves and hot pepper sauce.
Bring sausage/bean mixture to a boil.
Pour sausage/bean mixture into a large ovenproof casserole dish.
Bake, uncovered, at 350°F for 45 minutes.
Can be served over rice.