karen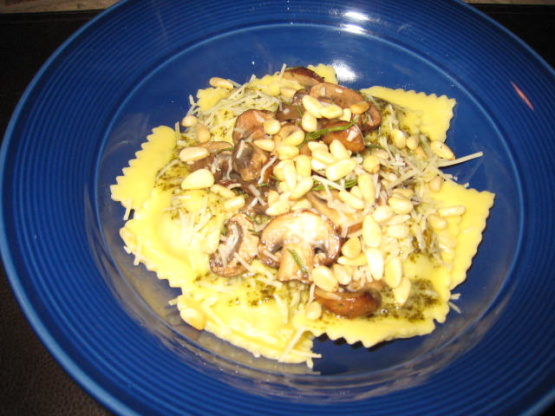 I started looking for something to do with my frozen meat ravioli for dinner tonight. Some inspiration from a few Zaar recipes, combined with the ingredients in my pantry, resulted in a dish that I think worked great.
Cook frozen ravioli according to package directions.
Combine milk, pesto sauce and flour in small saucepan. Stir to combine well.
Cook on medium heat, simmering until sauce is thickened, stirring occasionally.
While sauce is heating, place pine nuts in a dry non-stick skillet. Heat over medium heat until toasted, watching them carefully so they don't burn. Remove pine nuts to small dish after toasting.
In same skillet, heat olive oil over medium-high heat, and then add mushrooms and rosemary. Sauté until lightly browned.
To serve, place ravioli in a medium bowl with sauce spooned over it. Top with mushrooms, pine nuts and asiago cheese.