Parsley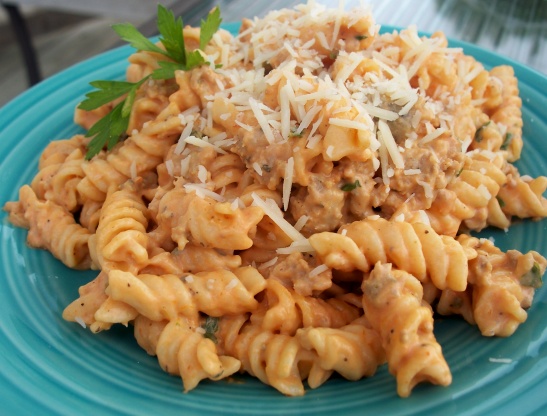 Very creamy sauce that my kids love! I do not favor anything with tomatoes but I love this!

Five stars for flavor, but I think the serving size is WAY off if this is used as an entree....even with the sauce doubled! I quadrupled the sauce and doubled the meat and being conservative with the sauce we barely got 6 servings with 1 pound of pasta! I used hot Italian and had some diced onion that needed using as well so in it went. The flavor is very good, much more sweet (even with the hot sausage) than your normal red sauce. We served it over penne rigate and it was divine! I will definitely do this as a repeat preformance!
Take sausage out of casings and crumble.
Put olive oil and chopped garlic in a skillet and turn the heat to medium.
When the garlic becomes pale gold, add the sausage.
Turn from time to time, until nicely browned all over, about 15 minutes.
Add the tomato and cook, uncovered, stirring occasionally, adjusting the heat if necessary so it will cook at a gentle simmer.
After about 20 minutes, when the fat separates from the other juices and floats free, add the cream and turn up the heat.
Cook for 1 to 2 minutes, stirring frequently, until the cream is reduced.
Add salt and a liberal grinding of pepper.
Turn off the heat and stir in the chopped parsley.
Cook pasta in pot of boiling salted water.
When tender, but firm to the bite, drain; toss immediately with sauce.
Serve at once with freshly grated parmesan cheese.
NOTES: The sauce maybe be prepared several hours in advance.
It should be reheated gently when the pasta is almost cooked.
I always double the sauce because in my house there never seems to be enough.
My family loves this sauce.
Double everything except the sausage, pasta and parmesan cheese to double the sauce.