Pasta with Sausage, Tomatoes, and Cream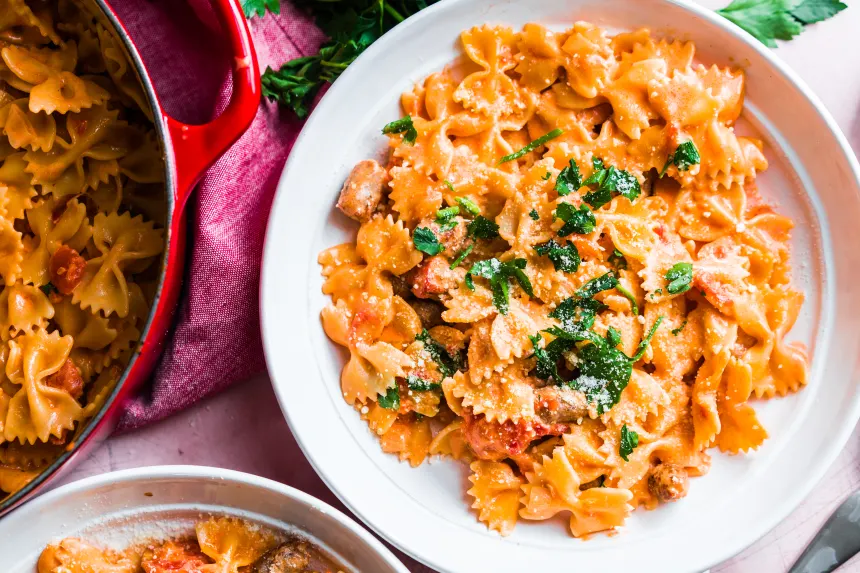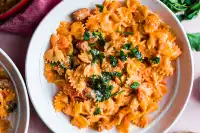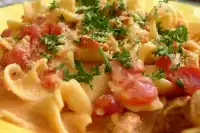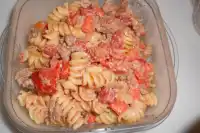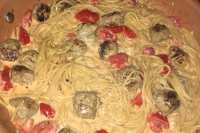 Ready In:

25mins

Ingredients:

11
directions
Heat oil in a heavy skillet over medium heat.
Add sausage and crushed red pepper.
Cook until sausage is no longer pink, stirring frequently, about 7 minutes.
Add onion and garlic to skillet and cook until onion is tender and sausage is light brown, stirring occasionally, about 7 minutes.
Add tomatoes, cream, and salt.
Simmer until mixture thickens slightly, about 4 minutes.
(Can be prepared one day ahead. Cover and chill.).
Cook pasta in large pot of boiling water.
Drain.
Bring sauce to a simmer.
Add pasta to sauce and cook until pasta is heated through and sauce thickens, stirring occasionally, about 2 minutes.
Divide pasta between plates.
Sprinkle with parsley.
Serve, passing Parmesan separately.
Reviews
Let me just say this: YUM. Okay, and I'll say more: I just finished the leftovers for breakfast. This was a very easy dish and tasted like it took much more work. I let the sauce cook down a little more than suggested, and I added more red pepper flakes, and it was wonderful. Thanks for sharing this great recipe GinnyP!

 

WOW! Deeeeeelicious! I doubled the recipe and we have plenty for lunch tomorrow. This recipe deserves more than 5 stars - easy recipe, easy directions, clean up a snap, and chock full of flavor! I had everything on hand, too so no need to run to the store. I used sundried tomato and basil sweet sausage. I didn't have heavy cream so I made my own (3/4 c. skim milk and 1/3 c. melted butter and 1 tsp of flour = 1 c. cream). I had Rigatoni on hand and cooked it al dente (~ 12 oz). My 6 year old ate it up and said she wants this everyday! LOL. She's getting some for lunch tomorrow, as will I. She wants me to make this when we go to Myrtle Beach next week. I think our friends are going to LOVE this too. Thanks for posting...this is a keeper!!! - Also, this recipe (doubled) easily could feed 6 to 8 people. My serving size is 1 cup for this recipe. Served with a nice garden salad and a side of veggies (steamed zucchini), you don't need more than a cup of this pasta (although it's too tempting not to go back for seconds.) Just read some reviews and I'm SHOCKED people are complaining it lacked in flavor or was bland. My DH is as picky as they get, and he oooh'd and awwww'd about the GREAT flavor this dish had. I didn't have to make any adjustments.

 
Tweaks
Whole family gives this a thumbs up! They insist this is a keeper and we need to make it again. It's a shame it's so fattening but I like MizzNess' suggestion to use whole milk instead of cream. I may try that next time. I used fresh tomatoes instead of canned and threw in saute'd kale for some extra fiber and vitamins. Love it! No one even picked the kale or tomatoes out!

 

This is very delicious! However, I do admit that I made some changes to the recipe. First off, instead of sweet Italian sausage, I used HOT Italian sausage. It's just a personal preference and this way you can also omit the crushed pepper. Secondly, rather than using heavy cream I used an 8oz tub of that new Kraft cooking cream cheese in Italian herb flavor. This came out very well and my husband raved about it. :) This definitely tastes like a restaurant dish. I highly recommend!

 

Great flavor! I like the diced tomato without the tomato base. I used rotini pasta and canned diced tomatoes, drained. I didn't have whipping cream so I used half and half. Sauce was probably thinner but still creamy. I also added a diced carrot and dice celery because they were going limp and need to use them up. I probably should have taken the photo before eating but I was hungry! These are the leftovers.