Nimz1466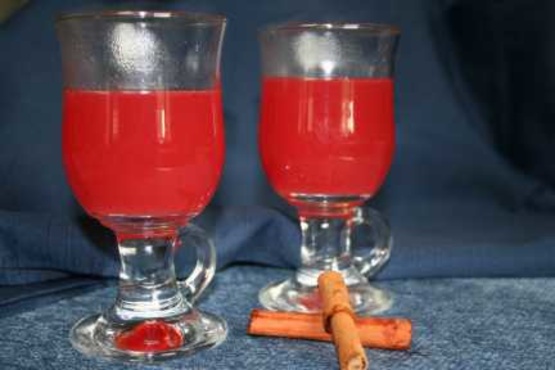 The name is a bit misleading...there's no tea here... but this hot drink is a nice change of pace especially around the holidays. I always buy extra cranberries when available and throw them in the freezer.

This was good. You obviously have to like cranberries to like this. I think this recipe is very much based on personal preference of taste. I used frozen cranberries & white sugar and left in the cinnamon sticks which imparted more flavor. Made for I Recommend Tag Game - February 2010!
Boil cranberries with 2 qts water until berries pop.
Let set 5 minutes.
Strain.
Discard solids and return juice to stove.
Add 2 cups water, cinnamon sticks and sugar.
Bring to a boil; boil 1 minute.
Cool.
Add lemon and orange juices.
Heat and serve.
Store in refrigerator.