Pamela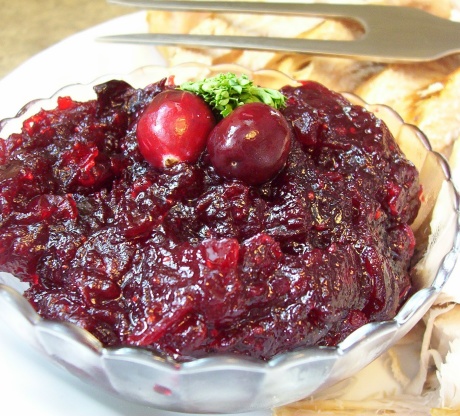 I had this marvelous cranberry sauce about 5 years ago at a friends house. Since I have Diabetes, I substituted Splenda for an equal amount of sugar...you could switch back if you like. I love this recipe and make it every year at Thanksgiving. It's best if you make it several days ahead to allow the flavors to blend. It's a step above the "norm".

My family LOVES this recipe. I found it a couple of years ago and now we refuse to use anything else. We use sugar and everything else stays the same. Here is a tip for anyone who has not figured it out (this may be in other reviews, I didn't check): if you let it boil for close to 30 minutes or so instead of the 10, as it cools it will gel up like the canned kind. Thats how we prefer ours so that it doesn't run everywhere. Thanks Joanne! Happy eating!
Mix together in large pot, cranberries, sugar (or Splenda), water& juice, salt, ginger pieces (not ground) and orange zest.
Bring to boil and cook about 10 minutes or until all berries have burst.
Remove from heat and allow to cool 1/2 hour.
Remove ginger pieces and add cinnamon, ground cloves and all spice.
Blend thoroughly and allow to cool completely.
Put in covered bowl and refrigerate until ready to use.