Dorel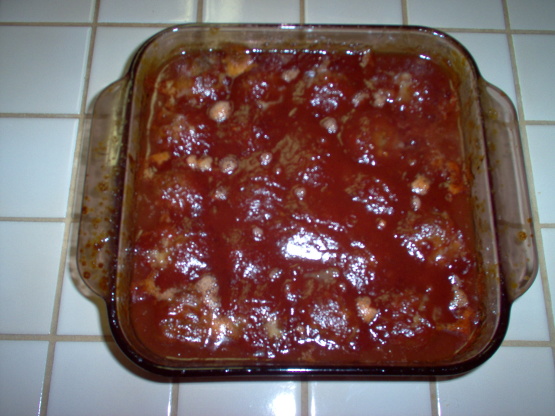 I don't remember where I got this recipe. I think I clipped it out a local newspaper. Great as an appetizer or as an entree

Manda, I had actually made these meatballs several times, but forgot to post my review. Manda, these meatballs were sooo good, but I did prepare them abit differently. First, I halved the recipe, which I did get 21-(1-inch) meatballs, then I baked them in a 350 degree oven for 12 minutes. Also, when I added the crushed cornflakes to the meatball mixture, I found that 3 cups of the cornflake cereal, then "crushed" will equal 1 cup of the cereal crumbs needed for this recipe, but since I halved the recipe, I only needed 1-1/2 cups of the cereal, and when "crushed", you will end up with a 1/2 cup of the cereal crumbs. When it came to making the sauce, which I also halved the recipe, I did this before making the meatballs, and used a potato masher to mash the jellied cranberries. I then baked the meatballs, with the cranberry sauce, for 20 minutes in the 350 degree oven. Manda, this recipe certainly deserves more than 5 stars, as these meatballs were sooo good!! Thank you for posting this recipe.
Combine meat ball ingredients blend well.
Form meatballs the size of walnuts.
Arrange in a single layer in baking dish.
Set aside Combine sauce ingredients in a saucepan.
Cook over medium heat until smooth, stir frequently.
Pour over meatballs.
Bake uncovered for 30 minutes.
Serve in a chafing dish, provide toothpicks.
CROCK POT VERSION: Cook meatballs in 350F oven for 15-20 minutes with out the sauce.
Drain.
Place in crock pot, pour on the sauce.
Cook on low for 6-8 hours.
I serve the meatballs and sauce over cooked egg noodles.