Cranberry Dessert Cake With Butter Sauce
Ms B.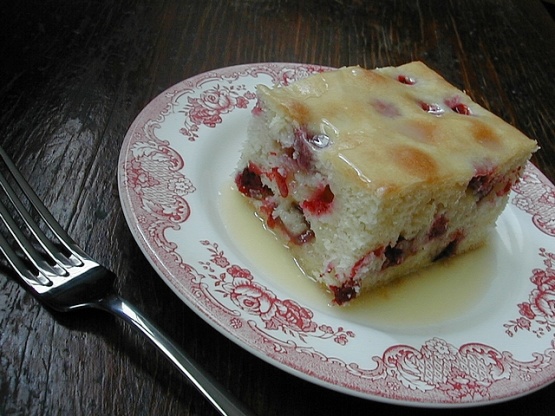 A moist and flavorful fall dessert. The warm butter sauce really compliments the tart cranberries. I have purchased fresh cranberries in season and frozen for use later. The frozen cranberries work well in the recipe.

My new FAVORITE cake recipe. Recipe is excellent. Delicious. I can't wait to make it for my garden club.
Preheat oven to 375°F.
Greas and flour bottom only of 9x13 pan.
Combine flour, 1 1/4 cups sugar, baking powder, soda, and salt.
Mix well.
In medium bowl, beat sour cream, milk, oil, almond extract and eggs.
Add sour cream mixture to flour mixture.
Stir just until dry ingredients are moistened.
Gently fold in cranberries.
Spoon into prepared pan.
Bake at 375F for 45 to 55 minutes or until toothpick inserted in center comes out clean.
BUTTER SAUCE: In small saucepan, combine 1 cup sugar, butter and whipping cream.
Bring to a boil.
Simmer over low heat for 2 minutes, stirring constantly.
Remove from heat, stir in vanilla.
Serve warm sauce over cake.