teresas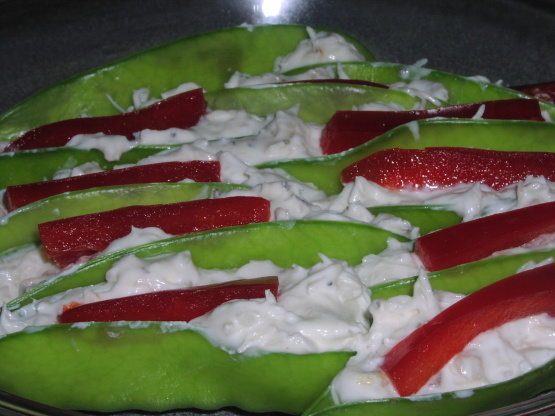 Yummy. I actually ate a whole bunch of these for lunch one time!

Made these over 3 weeks ago to include on my finger food buffet for a group I host each month, & am just now getting around to posting the review! These ABSOLUTELY GREAT thingies were gone in no time at all! When I have the time, I really enjoy doing this kind of thing, especially when they turn out as tasty as these did! Most definitely a keeper recipe! Thanks for sharing it, Kim! [Tagged, made & reviewed in 1-2-3 Hit Wonders]
226.79

g package cream cheese, softened

14.79

ml lemon juice

170.09

g crabmeat (picked over thoroughly)

29.58

ml finely chopped onions
salt and pepper

226.79

g snow peas, stems and strings removed (about 60 pods)

1

red pepper, seeded and cut into slivers (about the size of a matchstick)
In a bowl, beat cream cheese with the lemon juice until smooth.
Add crabmeat and onion and mix well.
Season to taste with salt and pepper.
Cover and refrigerate for at least an hour (until mixture is firm; its easier to handle this way).
Bring a large pot of water to a boil and blanch the pea pods (about 45 seconds).
Remove the peas and immerse in a large bowl of cold water to stop the cooking process.
Drain on a paper towel and pat dry.
With the point of a sharp knife, split open the curved seam of each of the peas.
Using a small spoon or cocktail fork, fill each pea with about 1 1/2 teaspoons of the crab mixture.
Arrange on a platter and garnish with the red pepper slices.