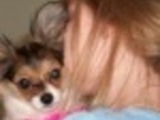 When I was young, we ate a lot of pork and chicken. I suppose it was less expensive than beef. I've eaten many bowls of this hearty filling soup while sitting at my grandma's table.
Directions
Add oil to dutch oven and heat over medium heat. When oil is heated, add pork and brown. Add carrots, celery and potatoes. Cook 1 minute. Add remaining ingredients except okra. Cover and simmer 1 hour, stirring often.
Add okra and cook 15 additional minutes.
Serve with crackers or cornbread.
Most Helpful
Delicious! Mine turn out to be more of a stew, but I like stews even better. Added some broccoli for color and didn't peel the red potatoes. Made for PotLuck event in Cooking Photos.

We needed a recipe for some leftover pork roast and this fit the bill. I omitted the sugar and had to substitute 1 onion, 2 garlic cloves, 2 tsp. low sodium soy sauce and a couple tablespoons of sour cream in place of the dry onion soup mix, but it still came out simply delicious. Since I didn't have to brown the meat I used the oil to saute all the veggies (minus the potato) to start and added everything else as prescribed. I added the already cooked pork to the soup after 30 minutes and added the okra after another 15. This cut the cooking time by 15 min. The potatoes needed the whole hour to be ready but sauteing the veggies in the beginning and using precooked pork helped reduce cooking time. Thanks so much for sharing!

My husband and I loved this! I used about 3 cups of leftover pork roast, an extra cup of water, and fresh oregano rather than the dried. I also left out the hot pepper sauce. It was easy to make (which was necessary with two little ones clinging to my legs). The onion soup mix gave it a different flavor from what we're used to with meat/veggie soups--and although I doubted the okra as I put it in, it was a great addition as well. Good recipe. Thanks!